Health Fair puts focus on wellness
Event offers fitness tips, foot massages, teal-colored manicures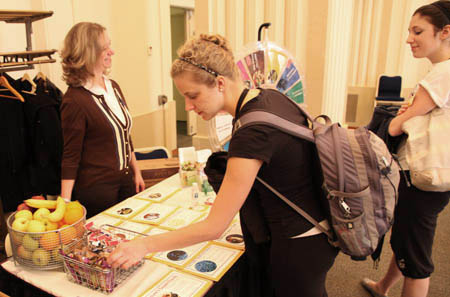 Point Park students, faculty and staff enjoyed free food, foot massages, teal-colored manicures and a bit of friendly competition recently at the University's annual Health Fair. The event is coordinated each spring by the Student Health Center.
The Health Fair is designed to be both informational and engaging. While participants played games and snacked on nourishing vittles, they learned some things about health and wellness that they may not have known before.
"I heard a lot of hustle and bustle so I decided to check it out," said Jonecia Lewis, freshman, undecided. "I had no idea you could use your body weight to calculate how much water you need every day to stay healthy."
The National Ovarian Cancer Coalition's manicure table was quite busy. There was just one nail color available - teal -- to raise awareness of ovarian cancer.

"We are seeing an increase in ovarian cancer diagnoses among high school and college-age women," said Ruth Rauluk, assistant vice president of procurement and business services. Rauluk sits on the NOCC board. "We're trying to do some education. Ovarian cancer is hard to detect and it's usually diagnosed by virtue of something else."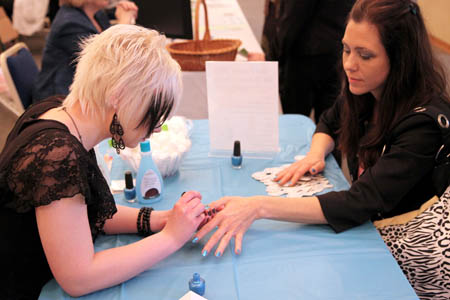 The bold color was a big hit for Nickquae Williams, a sophomore majoring in advertising and public relations.
"I love the teal. It's pretty while creating awareness," Williams said.
The Heath Fair also offered competitive activities, including ping pong games, jump rope contests hosted by UPMC trainers, and hand strength competitions conducted by representatives from the UPMC Center for Rehab.
Participants could enter a raffle for green cleaning products while learning about Point Park's sustainability efforts. The Program for Academic Success, which focuses on tutoring, counseling and disabilities services, had a guess-the-number container filled with lifesavers up for grabs.
Luis Cruz, a freshman broadcasting major, had just taken his turn to win snacks at the alcohol awareness wheel run by Campus Life.
"I think it's really cool," said Cruz. "Games and food always attract me. And you might pick up something you didn't know before."
Photos by Andrew Weier, senior photojournalism major