International Students Celebrate Seasonal Festivals of the World
Gathering includes cultural foods and crafts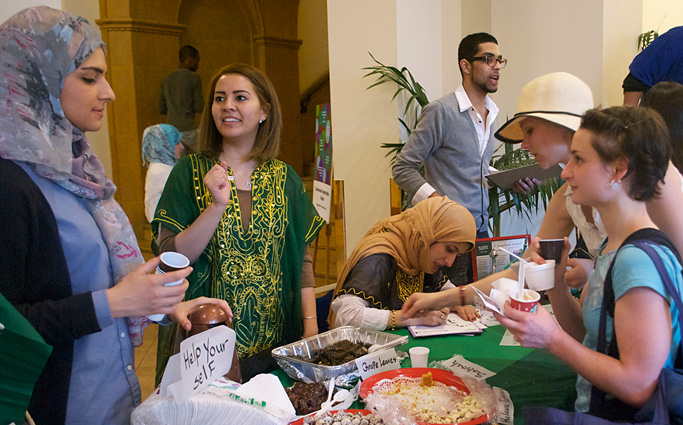 Students had their name written in Arabic at the table representing Saudi Arabia in the "Global Festival Celebration."
International and domestic students, faculty and staff were invited to celebrate cultures from around the world during the "Global Festivals Celebration," held March 22 in the Lawrence Hall lobby.
Point Park's Office of International Student Services and Enrollment hosted the event, which highlighted springtime festivals in Bulgaria, Poland, Holland, India, Nigeria, Ghana and Saudi Arabia. Students were able to sample Pongal, a sweet sticky rice from Southern India, create paper mache flowers to celebrate Holland's renowned tulip crop, and fashion red and white bracelets for Baba Marta, a Bulgarian holiday that welcomes the upcoming spring.
The event was capped by a performance from Lajkoniki, a folk ensemble specializing in traditional Polish dance.
This semester, 90 international students from 35 countries are represented in Point Park's student body. To learn more about opportunities for international students, visit the Office of International Student Services and Enrollment.
Photo by Photojournalism major Leah Irwin
Video by Cinema and Digital Arts major Kelsey Sylvester