Residence hall students compete in LLC Olympics
Living and Learning Communities go head-to-head in week of spirited competition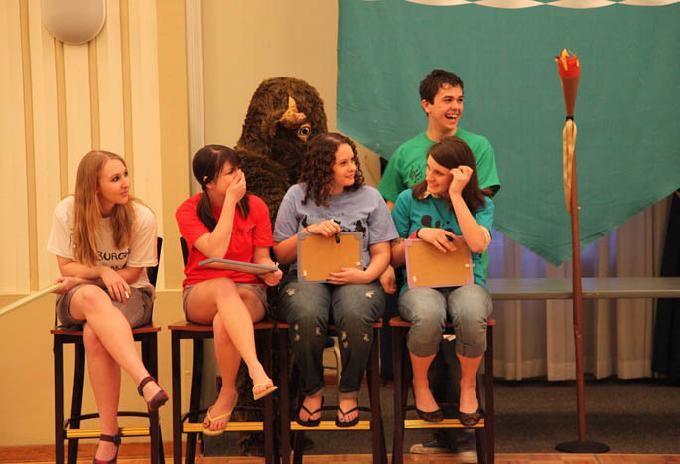 The Roommate Game sought to determine which Living and Learning Community floor had the pair of roommates who best know each other. | Photo by Andrew Weier
The spirit of friendly competition filled the residence halls of Point Park University as freshman participated in the 2010 Living and Learning Communities Olympics during spring term. Point Park has 11 different LLC floors that group students by personal interests, such as art, fashion, movies, sports, writing and community service, as way to build friendships and camaraderie.
The LLC floors hold activities throughout the school year and the LLC Olympics are the big event for spring term. The fun kicked off with an opening ceremony where residents played The Roommate Game. This game-show style competition tested each Living and Learning Community to see which floor has the roommates who know each other best. Residents cheered on their fellow teammates while wearing unique T-shirts that each LLC designed specifically for their floor.
The week was packed full of events in search of this year's LLC Olympic champions. Striving for the top prize, residents from each LLC floor competed in volleyball, a relay race and hide-and-go seek, then ended the week with dodgeball games. After each event, scores were tallied and points were awarded to the top three teams.
During closing the ceremony, residents watched a slideshow of the week's highlights as they waited to hear the final scores and over-all winners. Laughter permeated the ballroom as the students reminisced about the week-long competition. Finally came the results. Winning third place was the Arts for Art's Sake floor. The Silver Screen LLC was awarded second place. First place went to the Leadership Academy and Academic Excellence floor, whose residents cheered, clapped and celebrated their victory.
The LLC Olympics provided an opportunity for students to work together toward a common goal. Residents who might not otherwise interact teamed up for events like the relay race, for which communication was essential to winning.
Whether they were there to play an active role in the competition or to cheer on their friends in support, each LLC floor showed great sportsmanship and pride.
Article by Megan Nicholson, a senior advertising and public relations major and an LLC community facilitator for The Press Room floor.
Photos by Andrew Weier and Bethany Foltz, both seniors majoring in photojournalism