Light Up Night is spectacular for students
Annual celebration takes place on Point Park's doorstep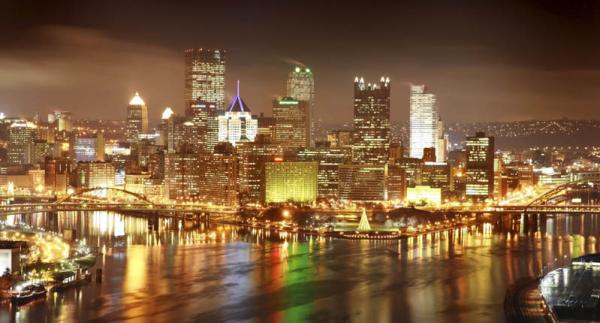 On a daily basis, Point Park students enjoy the perks of attending college in the vibrant, energetic atmosphere of Downtown Pittsburgh.
But the city's annual Light Up Night turns the Golden Triangle into a spectacular setting that offers students and everyone else an evening of fun, entertainment and celebrations to welcome the holiday season. And it's all on Point Park's doorstep.
Half a block from campus, PPG Place Plaza is a focal point for this year's Light Up Night on Nov. 20, as a venue for musical performances of show tunes, jazz and country music.
The evening includes the lighting of the towering holiday tree in the center of the PPG Place skating rink, which opens for the season on Light Up Night. Many Point Park students go skating for fresh air and exercise all during the winter.
Light Up Night provides plenty of fun in other parts of Downtown, all within an easy walk from campus. A highpoint of the evening is the fireworks show, fired from barges on the Allegheny River, with special effects and a music simulcast.
In addition to enjoying the evening's events, Point Park students have the opportunity to volunteer during Light Up Night by distributing flyers, providing directions to event locations, and helping with table and stage set-up. It all comes with being part of Downtown Pittsburgh.
For more information about Light Up Night, visit the Pittsburgh Downtown Partnership Web site.