Students visit capitol to support financial aid, higher education
Lobby Day gives students a chance to meet with state legislators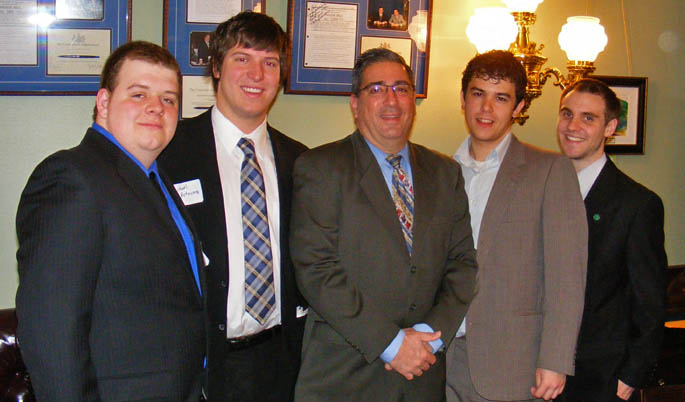 During Lobby Day, the Point Park group met with Rep. Paul Costa, center, a University graduate. In the photo, left to right: students Jonathan Morgan and Michael Potoczny; Rep. Costa; student Anthony Costulas; and J.W. Tabacchi,director of student activities. | Below: Morgan, Potoczny and Costulas outside the state Capitol.
May 2010
Three Point Park students got a chance to push for stronger financial aid programs, tout the impact of Pennsylvania's private colleges and universities, and experience the work of lobbyists during a trip to the state Capitol this spring.
The students, all active in Point Park student government, met with state representatives and senators as part of a Lobby Day, an intensive push in support of private higher education organized by the Association of Independent Colleges and Universities of Pennsylvania. Point Park is a member of the group.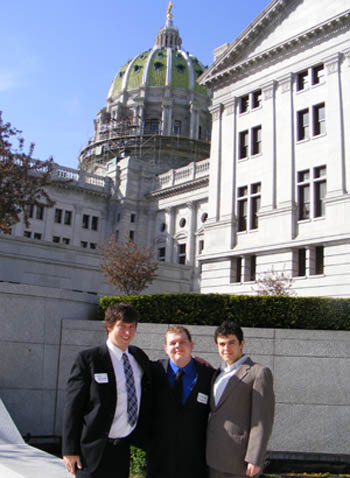 "It was amazing to get to spend the day brushing shoulders with some of the most powerful people in Pennsylvania," said Anthony Costulas, a political science major from Ellwood City, Pa., and a senator in United Student Government. "At the same time, I got a chance to get a backstage pass into the world of lobbying."
Making the trip with Costulas were Michael Potoczny, a history major from Independence, Pa., who will serve as USG president for the 2010-11 academic year, and Jonathan Morgan, a sport, arts and entertainment management major from Hopewell, Pa., who is also involved with USG.
The Point Park students met with legislators from their home districts and with two state representatives who are Point Park alumni - Rep. Paul Costa and Rep. Robert F. Matzie.
In what Costulas described as an "awesome experience," Costa took the Point Park students on a tour of the House floor.
In all, Lobby Day drew more than 200 college students from AICUP schools to Harrisburg to make sure state legislators are aware of the enormous contributions from private colleges and universities in Pennsylvania.
For example, more than half of bachelor's degrees awarded in Pennsylvania go to students attending private colleges and universities. In addition, 67 percent of advanced degrees are conferred by those private schools.
Key to supporting those educational opportunities are student grants and loans from the Pennsylvania Higher Education Assistance Agency. The students urged lawmakers to support funding for PHEAA's programs, which help college affordable for students from all backgrounds.
"Mainly we pushed legislators to stay away from cutting the aid that is supplied to students through the state of Pennsylvania," said Costulas. " With the economy the way it is, it's important to make sure we don't cut educational aid. Education affects every aspect of our lives."
J.W. Tabacchi, Point Park's director of student activities, accompanied the students on the trip and said discussions have already started about taking part in Lobby Day next year.
"Our students did a very nice job of representing their constituents and the University," Tabacchi said. "It was another great opportunity for our students to get involved outside the classroom."
Related links