University Community Volunteers Around Pittsburgh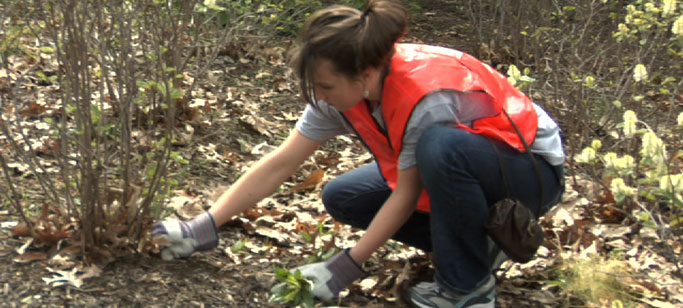 April 2012
Point Park students, faculty and staff had the opportunity to volunteer on April 14 during Pioneer Community Day, an annual event organized by United Student Government designed to get the University community involved in service projects in the area. More than 200 participants contributed 1,100 services hours to organizations throughout the Pittsburgh region. Projects ranged in nature from general cleanup and gardening to envelope stuffing and event setup. Organizations that hosted projects included:
Once the projects were complete, participants were invited back to campus for pizza, an acoustic concert series and Dance for Dreams, a fundraising event benefiting the Make-A-Wish Foundation.
In its second year, it is clear that this one-day event has gained momentum. Participation in this year's event was up 30 percent, and the Dance for Dreams raised more than $4,000, nearly four times the amount raised in 2011.
Video by cinema and digital arts majors Kelsey Sylvester and Damian Winterbottom
Dance for Dreams photos by Leah Irwin, photojournalism major