Spring Break 2010: New Orleans
Students combine fun with volunteer work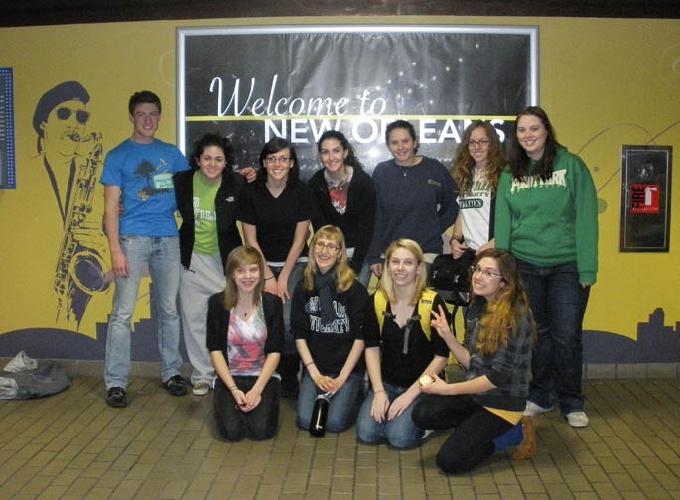 The Point Park group arrives in New Orleans for "Breakout in the Bayou." Front row: Kelly Cline, Chelsea Carroll, Audrey Prisk and Rebekah Laslow. Back row: Jake Dannels, Liz Velez, April Weber, Meghan Higgins, Laura Whitelock, Chelsey Engel and Karen Bullock.
More about
'Breakout in the Bayou'
Photojournalism majors Kelly Cline and Chelsey Engel agreed to share impressions and pictures from the trip.
Click the photo above for a slideshow. Follow the links below for their thoughts during the trip.
For Spring Break 2010, a group of 11 Point Park students headed to New Orleans for seven days as one of two trips organized by Point Park University (the other group headed to New York City).
"Breakout in the Bayou" offered students a chance to enjoy the sights, sounds and unique cuisine of the Big Easy and to contribute their manual labor by taking part in Habitat for Humanity's Collegiate Challenge -- building houses for residents who lost homes in Hurricane Katrina.
The students were accompanied by J.W. Tabacchi, director of student activities for Point Park and organizer of the University's first alternative spring break trip in 2009. Last year's group traveled to Biloxi, Miss., and helped build a Habitat for Humanity home for a family still recovering from Hurricane Katrina.
This year's group went to Mandeville, La., just outside New Orleans to help Habitat for Humanity on current homes under construction -- pounding nails, cutting and fitting siding, mixing and pouring concrete, setting posts for porches, carrying building supplies and working in the mud alongside the professional building crew.
Away from the construction sites, the Point Park students explored New Orleans including the famed French Quarter -- Bourbon Street and its unique culture, live jazz, Big Easy cuisine, New Orleans coffee and beignets. They toured the Ninth Ward, one of the areas hit hardest by Hurricane Katrina and still largely devastated by the destruction. To check out daily details, visit the trip blog.