Spring Break 2010: Chelsey Engel's New Orleans journal
'It opens your eyes to an entirely different way of living'
Point Park photojournalism major Chelsey Engel, of Hickory, Pa., was among 11 Point Park students on the 2010 alternative Spring Break trip to New Orleans, La., organized by the University.
During "Breakout in the Bayou," the students combined sightseeing in the Big Easy with vigorous volunteer work helping build houses for victims of Hurricane Katrina as part of the Habitat for Humanity Collegiate Challenge.
Engel, along with housemate Kelly Cline, agreed to keep a journal and share her photographs of the trip. Below is her account of a week in New Orleans.
Saturday, February 27, 2010, 4:24 PM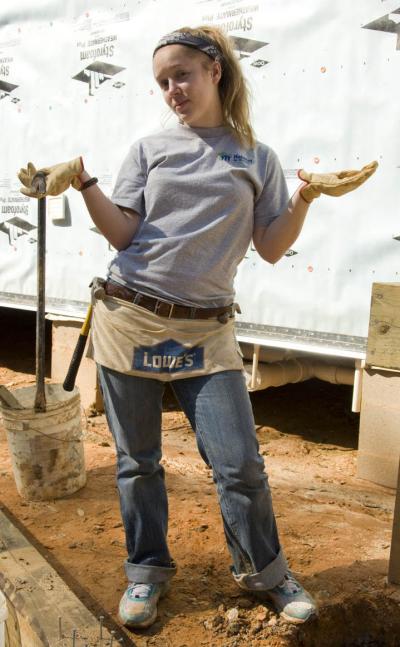 As I begin packing my suitcase for my trip to New Orleans, I can't help but stop and sit down as I hear the grim news emitting from my television. Another earthquake has hit, this time in Chile.
We are about to embark on a journey to help the victims in New Orleans, and pretty soon, citizens in Chile are going to need massive amounts of aid and hands as well. It is estimated that 80% of the population is homeless, while 75% of the Ninth Ward population in New Orleans is still displaced.
This horrible tragedy reminds me of why I am volunteering with Habitat for Humanity and I will be constantly thinking about those in need as I am working, lifting, hammering, and sweating all this week.
Aside from the disaster in Chile, I remain positive and I am more than looking forward to volunteering. I have no idea what to expect, but I hope to be able to contribute as much as I can and I hope we will be able to make even a small difference in someone's life.
Sunday, February 28, 2010, 5:22 PM
After being up for more than 24 hours, I am slowly fading; however, the sunshine and warmth down here will keep me going. Grass and green trees -- such foreign objects!
We're heading into downtown New Orleans in about a half an hour to eat at Mulate's, a Cajun-style restaurant, then it's up at 6:00 AM for breakfast and orientation. Let the good times roll!
Sunday, February 28, 2010, 10:01 PM
We just got back from eating at Mulate's downtown, which was incredible. Grilled alligator? Yes, please. Couples who were "rich in age," I will say, danced the night away to a live band. One woman dancing wore a shirt that said "recycled teenager," which we all enjoyed.
It has now been 39 hours that I have been awake and sleep is desperately needed. There may be seven of us in one tiny room and these bunk beds may not be ideal for most people, but to us, this is comfort at its finest. We will need the rest considering we will be in downtown New Orleans for the day tomorrow, which we are all excited about.
Monday, March 1, 2010, 10:24 PM
After a quick orientation this morning for Habitat for Humanity, we headed off for the Ninth Ward in New Orleans, the area that experienced the most devastation during Hurricane Katrina. There we met Ward 'Mack' McClendon, a driven and courageous man who has taken on the task of rebuilding his community.
More about
'Breakout in the Bayou'
Click the photo above for a slideshow from the alternative Spring Break trip to New Orleans.
Mack's plan, which is already underway, is to provide a safe haven for his community members. This community center will, hopefully in short time, host a computer lab, recording studio, gymnasium, and other amenities that will provide services for his neighborhood. This center, called the Lower Ninth Ward Village, is in the process of being built and Mack hopes to have the building in good enough shape for students to begin utilizing it at the end of this month.
After a quick tour of Mack's Village, he drove us around the Ward, which is still damaged, to the say the least, and abandoned. Seventy-five percent of the Ward's population is still displaced four and a half years later, which can clearly be seen by the vacancy of the neighborhood. Progress is being made, with the help of several organizations such as Make it Right (led by Brad Pitt), but there is still much work to be done. It broke my heart to drive through the Ward and see rows upon rows of houses still abandoned and destroyed. It really hit me when seeing huge holes in the roofs, which Mack said were from homeowners having to make them in order to escape their flooded homes during the hurricane.
We changed pace after the tour of the Ward and headed for Bourbon Street, which, to my delight, was lined with live music bars and grills emitting the beautiful sound of blues. We made a quick stop at Café du Monde where we indulged in beignets (French donuts) and coffee. One word -- delicious.
As we left the café, we were welcomed by a wonderful gift from Mother Nature -- a downpour. We ran our way several blocks to the Acme Oyster House where most students enjoyed oysters of some sort, whereas I chose a Grilled Chicken Po-Boy as my poison.
After a long day of dodging the rain and treating ourselves to New Orleans delicacies, we are exhausted and more than ready for rest. Tomorrow is our first work day and I am excited to see what work we will be doing.
Tuesday, March 02, 2010, 9:47 PM
Today was our first day of working with Habitat for Humanity and we are now exhausted! It is totally worth it though, so we're not complaining. We were extremely unprepared for the weather, so all of our clothes are ruined and covered in mud. This leads to one thing -- Goodwill! We stopped at the store to get sweaters since most of ours are now destroyed, so we will be prepared tomorrow. Hopefully we won't need them though since it is supposed to be warmer and sunny -- real New Orleans weather!
Our group was split up to do different tasks today and I was in the group that mixed and poured concrete to set posts for side porches. It took quite a while to do just one but it felt awesome when we got it done! Tomorrow, we will be doing more of the same but in much less mud.
Wednesday, March 3, 2010, 10:48 PM
Every night, we girls say we're going to bed earlier … it does not happen! We're now sitting in bed chatting it up and who knows when we will go to bed.
Today was pretty basic, digging more holes and pouring more concrete, but the sun was out! We made friends with one of the several community dogs, Precious, who is ready to give birth any day now -- her having her puppies while we are here would be amazing!
After a long and somewhat sweaty day of work, we went back to the church for dinner and then headed for Starbuck's for drinks and some group bonding. It was great for all of us to be in one place since we've been split up a bit doing different tasks. We talked about our day, how we felt about seeing the Lower Ninth Ward, our expectations and our challenges, and of course, things that were completely unrelated to work and things that were complete nonsense -- but that is what tends to happen when 11 college students get together at a coffee shop!
We're supposedly heading back into New Orleans tomorrow for some quick shopping -- hopefully I will get to hear some blues music playing on the streets!
Thursday, March 04, 2010, 10:15 PM
Today was an amazingly, beautiful day- sunny and 61 degrees. Can it get any better? I even got sunburned a tad -- I am ready for summer.
In the morning, I helped clean out two houses that were in the early stages of building followed by an afternoon of putting up siding on a shed. One of my goals was to climb on top of a roof, and I reached half of that dream by climbing up a ladder to tape around the shed door. Maybe I will fulfill the entire goal tomorrow and scale a wall onto rafters!
We were also fortunate enough to meet one of the homeowners, Warren, whose house is already completed and who is currently volunteering with Habitat and assisting in building other homes. It makes the realization that we were actually helping someone with their home more tangible with him being there today.
Tomorrow is our last day of working -- I can't believe this week has gone so fast! Although I appreciate the fact that tomorrow will be the last morning of waking up at 6:30 AM, I will sincerely miss all of the work we are doing and the people we have worked with on site. Hopefully our last day will be just as successful as the past three and we can end the trip knowing we accomplished something great.
Friday, March 05, 2010, 8:13 PM
Today was our last day of working unfortunately, but at least it was another day of sun. Both of my morning and afternoon were occupied by putting up more siding on the shed and I can safely say that if anyone needs any siding done, I am prepared to take that task!
One great thing about today was meeting Season Swanson, a woman who was working on her Habitat home. After renovating her house that was destroyed by Katrina, she and her husband got a divorce, leaving her without a home. She was approved for her Habitat home in January and has already put in 45 sweat equity hours (homeowners must work a minimum of 350 hours on their homes). As I talked with her, I could clearly see by the look on her face how grateful she was for all of the volunteers who are helping build her home. When Kelly and I told her we helped build her side porch, her face lit up and she thanked us graciously.
It is through interactions like these that make me sad that I'm leaving but glad that I had the experience. I have a whole new appreciation for life and for all that I have and I hope to be able to continue volunteering with Habitat in the future.
Saturday, March 06, 2010, 6:45 PM
As I'm sitting in my airplane seat looking out the window at New Orleans fading away, I can't help but feel sad that I am leaving. When we woke up this morning to pack for home, I realized how much I was upset about not going to work on the homes today. After talking to some of the young volunteers who were working at our site, I've found a way to make this type of work more permanent -- joining AmeriCorps.
It's only taken one week for me to realize what I want to do after college, which is join AmeriCorps and hopefully work with Habitat for Humanity. Volunteering like we did this past week is what I feed off of. It makes such a huge difference in someone's life to use your hands to build their home and it's such a great experience to work with so many skilled and knowledgeable workers that I can't just stop now after one week.
When I get back to Pittsburgh tonight, I am going to start looking into the local Habitat chapter and hopefully, I will be able to participate in their local projects. After that, I hope to continue volunteering with similar organizations and make it a vital aspect of my career.
Obviously, this trip was a success for me and I sincerely hope more students get the opportunity to take part in these kinds of projects. It opens your eyes to an entirely different way of living and if you miss out on that, there will definitely be an immense piece of life missing.