Alternative Spring Break trips combine fun, community service
Students visit New York City, New Orleans for volunteer work and sightseeing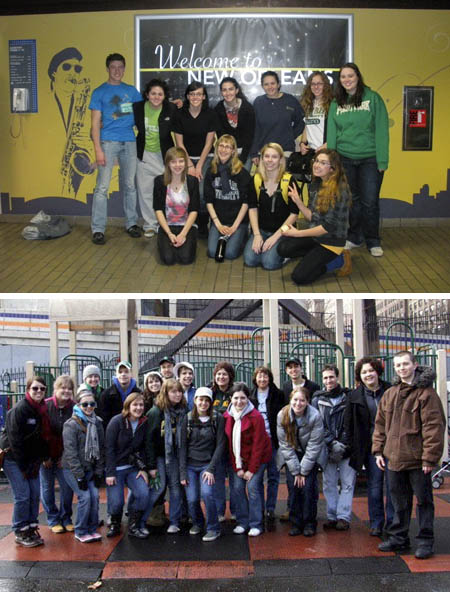 Point Park students took part in two alternative spring break trips in early March, 2010, both organized by the University as opportunities to visit new places -- and lend a hand to those in need.
Before they left, students agreed to share their experiences and photos from their trips. Follow the links below!
New Orleans
A group of 11 students spent the week in the New Orleans area. The students explored the city the first couple days, then worked with Habitat for Humanity to help build new homes for people displaced by the Hurricane Katrina. Each day, they made time for a fun excursion -- including a swamp tour -- in and around New Orleans.
New York City
A group of 14 students who reside in Living and Learning Communities or who are in the University Honors Program spent four days in New York City, seeing the sights (like Times Square) and helping others. Their volunteer work included cleaning up a city park and teaching computer skills to homeless people. They tried fun restaurants and were in the audience one day for "Good Morning America."
Campus Video: What are you doing for Spring Break?
Point Park students who didn't go on an alternative spring break trip had their own plans with friends or family, or just stayed put in Pittsburgh. The week before Spring Break, pointpark.edu asked students around campus about their plans. Check out the video below of their answers, and add your own thoughts on Point Park's Facebook and Twitter pages.