Spring break in New York, volunteering and sightseeing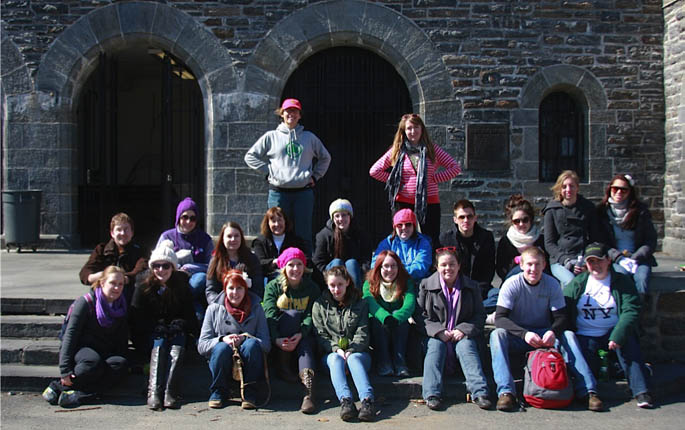 The Point Park spring break group poses for a photo before starting volunteer work in a New York City park. | Photo by Mary Eklund
March 2012
A group of 18 students from Point Park's Honors Program and freshmen Living and Learning Communities went to New York City during spring break 2012 to volunteer in city parks and at Housing Works, a non-profit organization that helps people living with and affected by HIV/AIDS.
Accompanying the group were Professor Helen Fallon, director of the Honors Program, and Campus Life Community Director Amanda McGuire, who works with the LLCs in Point Park's residence halls.
In addition to volunteering, the group toured a tour of Madison Square Garden and the 9/11 Memorial, meeting Point Park alumni along the way. The students also had free time to explore the city.
Point Park photography major Mary Eklund shot photos of the group's experience for the gallery on this page, and cinema and digital arts major James Kateluzos created a YouTube video about the trip.
In addition, students who went on the trip were invited to submit a paragraph describing the highlight of their week. Their responses are below:
Akasha Brandt, Sophomore majoring in journalism and multimedia, Gardners, Pa.
"Alternative Spring Break was so much better than sitting in my PJs at my home in Harrisburg all week and I assure you that is what my alternative to the alternative Spring Break was. Not only did we get to spend four days in America's big apple, New York City, at an astoundingly cheap rate (an essential for any financial decision to a college student), we were also able to make a notable difference to the community on two volunteer days. Cleaning the park was one of the most rewarding parts of the trip for me because several people stopped to show their gratitude. They were baffled at why a group of college students were raking up leaves 6+ hours away from their hometown. The day spent setting up the sale for Housing Works was less physically demanding but just as entertaining. The people there were very courteous and you could tell by the number of people who walked by trying to get into the store, the community was noticeably excited about that sale. I genuinely enjoy community service but living off campus and balancing work, the journalism course class load, and relationships, it is impossible to find time to volunteer. This trip was a nice balance between getting to help out the community, going on cool preplanned trips, and immersing myself in NYC. I almost went off the rails with excitement and I hope to have an equally satisfying time next spring."
Jim Kateluzos, junior majoring in cinema and digital arts, Mechanicsburg, Pa.
"I enjoyed the alternative spring break trip. I had never been on a school-sponsored community service project before and found it to be quite fun. I would say that my favorite part was the actual community service and the tours that we were given. The reason I say this is because there is little to do in New York City that is cheap or free. I've been to the city more times than I can count, so the sights are not as appealing to me as they are to others." (Watch James' video about the trip.)
Lara McCann-Moran, sophomore majoring in acting, Detroit, Mich.
"I really enjoyed being able to do the work we did and also have the freedom of an adult. I will absolutely participate on the Alternative Spring Break trip again. At our first job, we were cleaning a park in Washington Heights. After hearing how small the Parks and Recreation department in New York City had become and how much they needed our help, I was glad to offer a hand raking leaves and picking up garbage -- it actually turned out to be one of the best days for me. At Housing Works, we did an assortment of jobs with a completely different group of people, organizing clothing for their upcoming event. At first, I wasn't sure how this could be considered volunteer work because we were only helping to organize a thrift shop but later on in the night, I sat down with the head of the operation and he told me how Housing Works is actually an incredible non-profit organization helping those affected by HIV/AIDS. I never felt like I was doing work, really. I loved every minute of it because New York City is filled with millions of interesting people and organizations and it was wonderful to have met and interacted with some of them."
McKinley McMillen, freshman majoring in global cultural studies, Salt Lake City, Utah
"While in New York I had some very fun and new experiences. I have been to New York about 13 times before this trip. But I saw and learned a new thing about the city every day. I enjoyed the tour of the Meat Packing district and the different architecture that I was able to see from the High Line. The dinner that the school provided for us that night was at a very classy Italian restaurant downtown. That was a very nice meal and I appreciated that the school took us to such a refined place. I loved the community service, being able to work outside, being surrounded by trees and hills in a city full of cement. The tour of Madison Square Garden was very exciting because we were able to see things that most people don't. I felt very privileged and felt it was a tour worth my time. Our tour guide was an alumni from Point Park and she was helpful giving us advice in finding jobs in Pittsburgh and working your way to the top! Along with tours, the World Trade Center tour was very moving. It was so nice to be able to see all the progress that had been made, and our tour guide provided a lot of unknown facts. Working in the thrift shop was fun. It was great to see everyone working together to help people with AIDS. I really liked the freedom we were given, I felt like we were very trusted and able to have a lot of free time to enjoy the city on our own. This trip was a success for me and I am looking forward to going again next year!!"
Sara Payne, freshman journalism major, Buffalo, N.Y.
"The alternative spring break trip to New York City definitely went past my expectations. When I heard we'd be having tours hosted by alumni, I didn't really think too much about what we were being offered. Our tours the city and Madison Square Garden, hosted by two alums, really opened my eyes. I might not have gained an insight into what I want to do after my time at Point Park, but I really saw how moving to a larger city like New York can be done. Our guide of the city mentioned that he did have to stand outside with signs for a period of time just to earn money, but he is still in the city and happy. The connections our other tour guide made while attending Point Park helped her gain a job in a big company in an even bigger city."
Katie Potts, freshman, global cultural studies, Lower Burrell, Pa.
"I recently had the opportunity to spend part of spring back in New York City through the school. As soon as I heard about the trip I was instantly excited. New York is an amazing city with an endless amount of attractions and places to visit. What was different about this spring break trip was that it included some community service projects. In New York, we participated in two service projects. The first was through an organization called City Parks, where we cleaned a park. Between the two projects, this one was certainly my favorite. I really enjoy participating in service projects that involve being outdoors and cleaning up. Other than the service projects, I had an amazing time shopping in Soho, visiting Times Square, and going places in New York I haven't been before. This trip definitely met my expectations and was a great opportunity."