Students spend spring break building houses near Seattle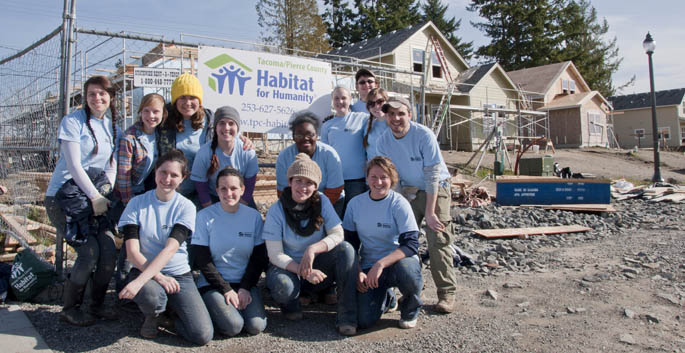 The Point Park group worked on Habitat for Humanity houses near Tacoma, Wash.

Group volunteers with Habitat for Humanity
March 2012
A group of 11 Point Park students, along with two Student Life staff members, spent spring break 2012 in Washington state, volunteering with the Tacoma/Pierce County chapter of Habitat for Humanity, a non-profit organization that builds or restores homes for people who lack adequate housing. The Point Park group was accompanied by J.W. Tabachhi, director of judicial affairs, and Sarah George, director of commuter affairs.
The Point Park students spent a few days working on homes, but also found time for sightseeing and fun outings, including a visit to Seattle's landmark Space Needle and the famous Pike Place Market.
The students who went on the trip were invited to submit a paragraph describing the highlight of their week. Their responses are below. Photojournalism major Kelly Cline shot photos for the Flickr slideshow below. In addition, please check out the group's Seattle Alternative Spring Break '12 blog.
Kelly Cline, senior double majoring in photojournalism and global cultural studies, Nisbet, Pa.
"This spring break trip to Seattle showed me how much of a difference people are capable of making when they put their minds and hearts to the task. All of the people involved on the work site left a dramatic impact on my life and they were an inspiration to the world. The crew members had patience with the students and showed their appreciation of our work every step of the way. The students displayed their willingness to learn with every task presented to them. We built friendships among other students and crew members and we also built homes and hope among those people receiving the gift of a home. It was an unforgettable experience that proved a small group of people are capable of making a big difference in the lives of others."
Bethanne Lenhart, senior double majoring in acting and Secondary Education in Communication, Ligonier, Pa.
"The most influential part of our spring break trip with Habitat for Humanity was having the opportunity to talk to home owners that were waiting to move into the houses that we were helping build. They told us their stories, their plans, and the hopes for the future. I can't really describe how it feels to know that because college kids all over the country were volunteering, we were making progress on so many houses and impacting so many lives."
Alicia Lyons, junior majoring in broadcast
"I had such a wonderful time on the spring break trip to Seattle, to help with Habitat for Humanity in Tacoma. I think that working with the homeowners made the biggest impression on me. There was one homeowner in particular, her name was Elaine, that was working with us. She was only 25, but a single parent of two working full time with two different jobs. She was such a pleasure to work with but also to talk to. She really opened my eyes up to how fortunate we are as students here at Point Park able to get an education when there are so many other young adults who may never achieve that dream. Working with her really made me so happy to be helping with Habitat and knowing that I'm truly helping these people live in a warm home to raise their families in. It was such a rewarding experience and I'm extremely grateful that I could be a part of it."
Rachel Norris, junior majoring in photography, Winchester, Virginia.
"While in Seattle, we were blessed with a few days of great weather, a few days of good weather and one day of terrible weather. On the day it rained for five straight hours and the sun didn't show, we began to work at the Habitat for Humanity work site. We were, of course, deterred by the amount of rain and the low temperatures, but the Habitat crew was in as good of spirits as ever. This made a huge impression on me. These people are already giving up so much of their time to this wonderful organization, and when it's terrible outside it doesn't even faze them. Although we couldn't paint that day, there was plenty to be done ... outside of course. We dug two-foot holes for fence posts, hammered down foundation and worked through the whole day. Even though I was cold and somewhat miserable digging holes that were bound to be filled with water the next day, seeing the faces of our Habitat crew smiling and grateful for our help really made a difference for me. I will never complain about working in the rain again!"
Zoe Sadler, junior double majoring in advertising and multimedia, Greensburg, Pa.
"While working with Habitat for Humanity, I got my hands dirty, explored a new city, and built relationships and houses. Not only did Habitat for Humanity open my eyes to see the problem with homelessness and poor living conditions in America, but I was given the opportunity to do something about it. By the end of the week we saw the progress that we made on the houses - a visible reward for all of our hard work."
Karly Shorts, junior majoring in psychology, Johnstown, Pa.
"There would definitely have to be a tie-breaker between the people and the work that we did that made the biggest impression on me. All of the staff at the site that we visited were nicer and more helpful than I ever could have imagined. Not only did they guide us through something we knew nothing about, they also found neighborhood volunteers to feed us, a church to house us, suggested places we should see in the area and even came to some tourist attractions with us. Also, the work that we did with Habitat for Humanity was such a learning experience as well. I knew nothing about building, construction, etc. going into this trip and, I may not be able to build a house top to bottom, but I could tell you so much more than I could have before this trip. It was truly a unique experience I will never forget."
Richelle Szypulski, junior majoring in mass communications and multimedia major, Lower Burrell, Pa.
"My most memorable moments from the Habitat for Humanity trip may seem minuscule to others. A shy, but grateful smile from one of the soon-to-be homeowners. The first, delicious bite of soup homemade by local parishioners. The dislodge of a massive rock from the ground after countless attempts to free it. The relief felt by you and your shoulder when the second paint coat is finished. And the end-of-the-day glance at all you've accomplished in such a short time. Although they only last a few seconds, these fleeting flashbacks really put into perspective the difference we made for those families and the community they will live in. Participating in any form of community service as a team is such a rewarding and irreplaceable experience. Although I can't quite put into words the feeling it provides, I know it's one that by far validates any lack of sleep or sore muscles. "
Photos by Kelly Cline, photojournalism major