Spring break in Mississippi 2012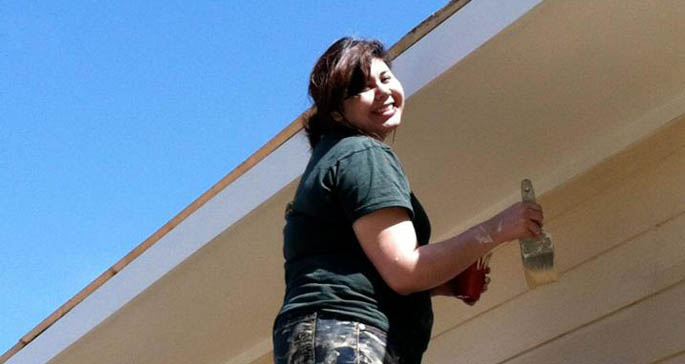 Point Park student Stephi Squeak paints a Habitat for Humanity home near Bay St. Charles, Miss.

Students help build new homes with Habitat for Humanity
March 2012
This year, six students who belong to The Body, a Christian student group at Point Park, spent their spring break 2012 on Mississippi's Gulf Coast. The students helped with finishing work on two new houses with Habitat for Humanity. They built trim, window boxes and porches, and painted the interiors and exteriors of the homes.
They were accompanied by The Body advisor Katherine Sikma, and some members of the congregation she is partnering with, Christ Community Church of the South Hills.
Bay St. Louis is on the Gulf Coast between New Orleans, La., and Biloxi, Ms., so the students had time to enjoy beachfront fun and sunshine.
Graduate student Ivan Moore, who is in Point Park's M.A. in journalism and mass communications, shared his thoughts on the spring break experience:
"I have been on a few build oriented service trips and the best part always seems to be the same, working directly with the home owners. Last year during our Habitat for Humanity trip we didn't get to experience this, but our home owner was put directly on a small team with me this year and I got to work one-on-one with him. It was a great opportunity to meet someone who was working hard on something to provide a place to live for his new family and relate with someone who is in a different place and has experienced some very real hardships in their lives. Before we left we were given the opportunity to write messages to our home owner on the bare wood before it was covered up by dry wall and this is what I wrote:
"God please bless this house with your protection and love. Keep this family together and strong and the foundation firm."
Photo gallery images courtesy of Katherine Sikma