WPPJ gives students experience running campus radio station
Programming ranges from indie-rock to talk radio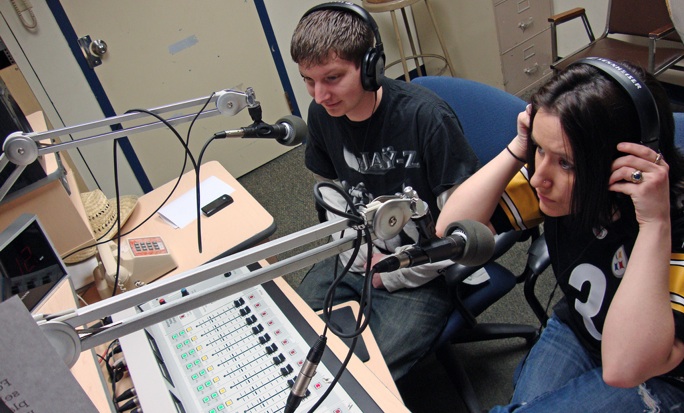 Student disc jockeys Philip Stillwagon and Angela Goodwin man the microphones at WPPJ, the Point Park campus radio station. Below is Anthony Costulas, WPPJ's general manager.
During their years at Point Park, students at one time or another find themselves listening to WPPJ, the campus radio station. Maybe they tune in while eating and socializing in the Point Café, or perhaps they connect via Facebook or Twitter while studying.
Behind the station's music and programming are Point Park students, handling jobs from disc jockey to sales representative to general manager. Any student, no matter what his or her academic major, can get involved and be a part of running WPPJ.
"It's the ability to reach people from a great organization. There's such a variety here and no one specific set of people," said Anthony Costulas, a sophomore political science major who is currently the station's general manager.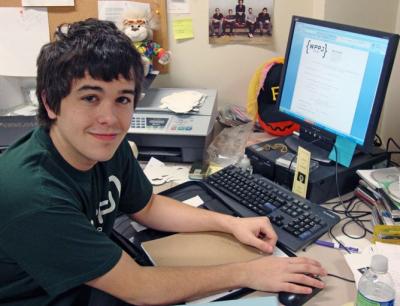 WPPJ is one of the oldest organizations at the University, on the air for 30 years. Walking into the studio, located on the second floor of Lawrence Hall, you can see history on the walls - colorful posters for various artists, particularly for indie rock bands.
At WPPJ, the DJs pick the music they play on their shows, and indie rock is a favorite. But listeners also hear programming from hip-hop to salsa to talk radio - and everything in between.
There are five rooms in the WPPJ offices - three used by DJs and two used for sales, business and management tasks.
Costulas points out that students who get involved with WPPJ can add experience in the broadcasting field to their resumes, from on-air hosting to production to promotion. "There's something in radio for everyone," he said.
At the station, students find a welcoming environment and a belief that everyone has something to contribute in their own way, in their own style. The staffers have a passion for their listeners and work hard to provide an atmosphere where fellow Point Park classmates can enjoy their days with good music.
Philip Stillwagon, a senior broadcasting major, believes being a part of WPPJ is a good way to prepare for his future after graduating. "Everything I learned here will carry to my career," Stillwagon explains.
It's also rewarding, he says, to give other Point Park students news, good music and a way to relax. He encourages anyone who's interested to get involved.
"Do it. It's a fun time," Stillwagon says. "You make friends with a lot of people. Have fun with it even if you're not pursuing a career in radio."
You can listen to WPPJ on 670 AM from your radio, on the station's new Web site, on U-View and at the Point Café, located on the second floor of Lawrence Hall.
You can also find WPPJ on Facebook and Twitter.
Article by Alisha Valeri
Photos by Andrew Weier