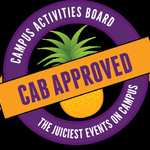 Campus Activities Board (CAB) is the official programming organization of the Office of Student Activities at Point Park University. The main goal of CAB is to provide the students of Point Park with quality activities that promote fun, personal development, learning, school spirit and pride, and foster an atmosphere conducive to social interaction among their peers. CAB also wants to become more integrated and wants to have better communication with clubs and organizations.

CAB gives students the opportunity to plan, market, and execute events for the Point Park community. CAB membership is open to all full-time undergraduate students at Point Park University.
Who can join?
Anyone can join CAB! It is never too late to get involved and help plan events for the student body of Point Park! After attending three consecutive meetings, general members gain voting rights. Stop by the Office of Campus Life or email cab@pointpark.edu for more details on how to join.
CAB 2018-2019 Executive Board
Kait Smith, Executive Director
Andy Brill, Vice President of Programming
Emilee Fails, Vice President of Marketing
Keely Sapienza, Administrative Coordinator
Emily Rockwell, Financial Coordinator
Morgan Hinish, Membership Coordinator
Micheline Rexroad, Experience Pittsburgh Coordinator
Morgan Sealy, Pioneer Series Coordinator
Elise Dorsey, Special Events Coordinator
Matt Spadaccia, Spirit and Traditions Coordinator
Anna Wolf, Advertising Coordinator
Nick Poprocky, Graphic Design Coordinator
Marissa Johnson, Public Relations Coordinator
Contact Information:


The Office of Student Activities, Involvement and Leadership
ATTN: CAB
201 Wood Street
Pittsburgh, PA 15222-1984
(412) 392-3804 voice
(412) 392-4799 fax
cab@pointpark.edu
CAB Media
Check out videos from past CAB events.