Student Center
Welcome to the Student Center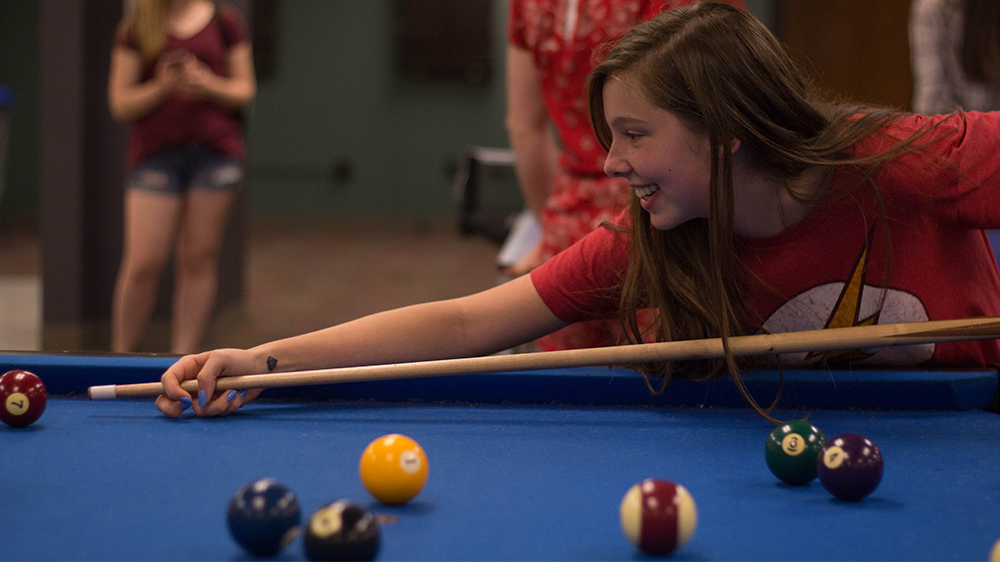 The Student Center is committed to providing the finest programs, services and equipment in order to enrich the University's recreational sports activities for students, staff and alumni. The Center offers a variety of facilities and spaces that include:
Recreational and lounge spaces with billiards and ping pong tables
Fitness area with elliptical machines, treadmills, indoor track and weight lifting equipment
Meeting and conference rooms
The Student Center is open free of charge to all Point Park University students. Faculty, staff and alumni must purchase a membership. Point Park ID is required for entry.
Summer 2018 Hours of Operation
Effective April 30, 2018- August 19, 2018
| | |
| --- | --- |
| Monday | 7:00am-6:00pm |
| Tuesday | 7:00am-6:00pm |
| Wednesday | 7:00am-6:00pm |
| Thursday | 7:00am-6:00pm |
| Friday | 7:00am-6:00pm |
| Saturday | 9:00am-2:00pm |
| Sunday | CLOSED |
Fitness on Demand
The Student Center offers a new way to workout with your friends! Check out our Fitness on Demand studio located in room 207B.
The Fitness on Demand studio features a touch screen console loaded with dozens of cardio, dance, strength training and yoga workouts from Daily Burn series and others. Select your workout and within seconds it will begin playing on a 70-inch screen. Bring a friend and get to work!
Current Point Park students have full access to the Student Center and its programs free of charge. Point Park University faculty, staff and alumni may become a member of the Student Center and access all of its facilities and programs. 
Membership Rates
Monthly Membership: $20
Memberships will become invalid on the first day of the new month.
The General Conditions of Use Waiver must be completed online prior to utilizing the Student Center. It is available on PointSync 
Membership fees waived from 5/1/18 - 9/1-18. General Conditions of Use Waiver must still be completed.
Please call 412-392-8024 for more information about Student Center memberships.
Recreation
Complete with a lounge area with TVs, billiards, darts, foosball and table tennis, the second floor is the perfect place to unwind in between classes. Equipment is available to be checked out at the fourth floor desk.
Billiards
Darts
Table tennis
Fitness center
The fourth floor is home to our fitness center with a variety of equipment to meet your strength training and cardio workout needs. The fourth floor is also home to our racquetball court.
Free weights
Indoor running track
Racquetball court
Treadmills
Elliptical machines
Stationary bikes
Cable machines
Jacob's ladder
Stair master
Basketball court
Shoot some hoops with your friends! Basketballs are available to check out with your student ID at the fourth floor desk.