Confidential Resources and Support
Note: This language is part of Point Park University's Policy Prohibiting Sexual Misconduct, Relationship Violence and Stalking.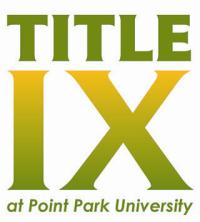 A. Confidential Reporting and Resources
The University encourages individuals who experience any form of sexual misconduct, to talk to someone about what happened-so they can get the support they need, and so the University can respond appropriately. Different employees on campus have different abilities to maintain a victim's confidentiality. Please review the information below to find the resource with which you are most comfortable. All resources below are free to enrolled students.
1. Completely Confidential Communication
Resources in this category are required by law and professional ethics standards to maintain near complete confidentiality. Unless a professional licensed counselor believes there is an imminent threat, those licensed counselors who provide mental-health counseling to members of the University community will not report any information about an incident to the Title IX Coordinator without first obtaining the victim's permission.
Students may obtain these services on campus from:
Student Counseling Center
7th Floor, Student Center
412.392.3959
Student Health Center
2nd Floor, Thayer Hall
412.392.3800
hcapo@pointpark.edu
Students and all employees may obtain services off-campus from:
Pittsburgh Action Against Rape (PAAR)
24 Hour Hotline: 1.866.END. RAPE (363-7273)
www.paar.net
Center for Victims
24 Hour Crisis Hotline: 1.866.644.2882
www.centerforvictims.org
Women's Center and Shelter of Greater Pittsburgh
412.687.8005
www.wcspittsburgh.org
Persad
1.888.873.7723
www.persadcenter.org
2. Exceptions to Confidentiality
In some instances, confidential resources will be required by state law to report certain information. In Pennsylvania, incidents involving minors must be reported to Childline at (800) 932-0313. Additionally, if information indicates the safety of the victim or other campus members is in jeopardy, the resource may be required to break confidentiality. Finally, in rare instances, there may be occasion where a resource is required to testify in a criminal proceeding.
Timely Warnings
The University is required to give a timely warning of any alleged perpetrators who commit a crime on or adjacent to campus and pose a serious and immediate threat to the campus community. In such an event, the Point Park University Police Department will issue a warning through its PointALERT system after consultation with University Administration as reasonable under the circumstances.
3. Anonymous Reporting
A reporter may report sexual misconduct anonymously through the University's Title IX web page. A link can be found at: www.pointpark.edu/incidentreport
4. Private Reporting
Unlike confidential resources, most staff, including athletic coaches, and all faculty at Point Park University are considered "Responsible Employees" and are required to report incidents of sexual misconduct to the Title IX Coordinator. This report to the Title IX Coordinator should include any relevant details about the alleged sexual misconduct and will trigger the University's investigation process. Information in the Responsible Employee's Incident Report will be shared with only those people necessary to carry out a thorough, reliable and impartial investigation. Personally identifiable information will not be shared with law enforcement without the Complainant's consent.
When a Complainant (or third party reporter) tells a Responsible Employee about an incident of sexual misconduct the Complainant has the right to expect the University to take immediate and appropriate steps to investigate what happened and to resolve the matter promptly and equitably.
If a Complainant begins to share information with a responsible employee, the employee should clarify to the Complainant that the employee is obligated to report the information to the Title IX Coordinator. If the Complainant would like to maintain confidentiality, the Responsible Employee should direct the victim to confidential resources, such as the Student Counseling Center or Pittsburgh Action Against Rape. Employees should not pressure Complainants to seek confidential resources or, conversely, pressure Complainants to fully disclose information before the Complainant is ready. Essentially, employees should identify their reporting obligations to the Complainant and then listen to the Complainant's information.
In cases where a Complainant would like to maintain confidentiality, but wants to share information about an incident with the employee, then the employee should communicate the desire for confidentiality to the Title IX Coordinator. The University will honor this request to the extent possible.
5. University Response to Requests for Confidentiality
Whenever possible and to the greatest extent possible, the University will honor requests for confidentiality and do its best to maintain the privacy of all reporters and Complainants (if different).
In cases where a reporter discloses an incident to a Responsible Employee but that reporter, or the Complainant, if different, expresses a desire to maintain confidentiality or requests that no investigation into a particular incident be conducted or disciplinary action taken, the University must weigh that desire and request against its obligation to provide a safe, non-discriminatory environment for all students, including the reporter and Complainant.
If the University honors the request for confidentiality, a reporter and Complainant must understand that the University's ability to meaningfully investigate the incident and pursue disciplinary action against the alleged perpetrator(s) may be limited.
Although rare, there are times when the University may not be able to honor a reporter or Complainant's request in order to provide a safe, non-discriminatory environment for all students. In this instance, the following individual(s) may evaluate the request for confidentiality:
Elizabeth Rosemeyer, Title IX Coordinator
Keith Paylo, Vice President of Student Affairs and Deputy Title IX Coordinator
Lisa Stefanko, Vice President of Human Resources and Deputy Title IX Coordinator
James Thomas, Associate Provost and Deputy Title IX Coordinator
Jeff Besong, Chief of Police and Assistant Vice President of Public Safety
Michael Gieseke, Dean of Student Life
When evaluating a reporter or Complainant's request for confidentiality or that no investigation or discipline be pursued, the University will consider a range of factors, including the following:
The increased risk that the alleged perpetrator will commit additional acts of sexual or other violence, such as:

whether there have been other sexual violence complaints about the same alleged perpetrator;
whether the alleged perpetrator has a history of arrests or records from a prior school indicating a history of violence;
whether the alleged perpetrator threatened further sexual violence or other violence against the Complainant or others;
whether the sexual violence was committed by multiple perpetrators;
whether the sexual violence was perpetrated with a weapon;
whether the Complainant is a minor;
whether the University possesses other means to obtain relevant evidence of the sexual violence (e.g., security cameras or personnel, physical evidence);
whether the reporter's report reveals a pattern of perpetration (e.g., via illicit use of drugs or alcohol) at a given location or by a particular individual or group.
The presence of one or more of these factors could lead the University to investigate and, if appropriate, pursue disciplinary action. If none of these factors is present, the University will likely respect the request for confidentiality.
In the event the University determines that it cannot maintain a reporter or Complainant's confidentiality, the University will inform the reporter or Complainant prior to starting an investigation and will, to the extent possible, only share information with people responsible for handling the investigation and resolution response.
The University will work diligently to assist the Complainant, and will take ongoing steps to protect the reporter and Complainant (if different from the reporter) from retaliation or harm. Retaliation against the reporter and/or Complainant, whether by students or University employees, will not be tolerated. Further, the University will not require a reporter/Complainant to participate in any investigation or disciplinary proceeding.