Note: This language is part of Point Park University's Policy Prohibiting Sexual Misconduct, Relationship Violence and Stalking.
FOLLOWING AN INCIDENT OF SEXUAL ASSAULT OR MISCONDUCT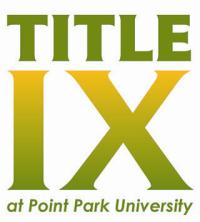 (including harassment, stalking and bullying)
Any Point Park student, faculty, or staff member who has experienced or who is aware of conduct that constitutes sexual misconduct, relationship violence, or stalking is strongly encouraged to seek immediate medical assistance, to call 911 or the University's Police Department at 412-392-3960,and to preserve pertinent information and tangible materials, such as text messages, photos and clothing.
To report any non-emergency sexual misconduct, please contact Elizabeth Rosemeyer, Title IX coordinator, at 412-392-3980 or erosemeyer@pointpark.edu. Reports may also be made to a Deputy Title IX coordinator, Student Life staff, faculty member, or any other University official.
A. Online reports
Online reports may be submitted, anonymously if so desired, at www.pointpark.edu/incidentreport.
B. Emergency Contact Information
In the event of a sexual assault or relationship violence, visiting a hospital emergency room will ensure treatment is provided for possible injuries, pregnancy, or sexually transmitted disease. Additionally, a Sexual Assault Nurse Examiner (SANE) can obtain forensic evidence of an assault up to ten days after the incident. This can be important if legal options are pursued later, including obtaining a protection order. There is a limited window of time (up to 10 days) following an incident of sexual assault to preserve physical and other forms of evidence. Taking the step to gather evidence immediately does not commit an individual to any course of action. The decision to seek medical attention and to gather any evidence will remain confidential and will preserve the full range of options to seek resolution through the University's complaint processes and/or criminal action. Additionally, in Pennsylvania, an individual can submit to a medical exam anonymously.
University staff can assist in obtaining medical or mental health care, and notifying law enforcement in the proper jurisdiction if the complainant desires. Also, Pittsburgh Action Against Rape will be notified of all reported assaults so that trained crisis counselors can accompany a victim to the hospital 24 hours a day, if the complainant desires The University will work with the complainant and law enforcement to implement any needed protective measures including No Contact Orders issued by the University and/or lawful orders issued by criminal, civil, or tribal court.
Complainants have the right to decline notification to law enforcement. This choice does not remove availability of any medical treatment and assistance from the University.
Emergency Contact Information
EMERGENCY RESPONSE

MEDICAL CARE

COUNSELING

Point Park Police
Contact any Police Officer or call 412-392-3960

Student Health Center
203 Thayer Hall
412-392-3800

Student Counseling Center
7th floor, Student Center
412-392-3959 (during normal University office hours)

Pittsburgh Police Department
Call 911

Magee-Womens Hospital
412-641-4933

Pittsburgh Action Against Rape (PAAR)
1-866-END-RAPE (363-7273)
www.paar.net

UPMC Mercy Hospital
412-232-8222

Women's Center and Shelter of Greater Pittsburgh
412-687-8005
www.wcspittsburgh.org

Persad Center
1-888-873-7723
www.persadcenter.org