Reporting Policies and Protocols
Note: This language is part of Point Park University's Policy Prohibiting Sexual Misconduct, Relationship Violence and Stalking.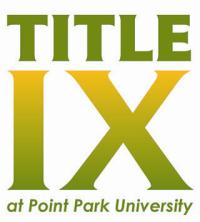 REPORTING POLICIES AND PROTOCOLS
A. Direct Reporting Options
A reporter may report sexual misconduct by instituting either a criminal process and/or an institutional process. The criminal process begins by calling the local police department or University police department. The institutional process may be instituted by calling Elizabeth Rosemeyer, Title IX Coordinator at 412.392.3980, contacting any Deputy Title IX Coordinator, Responsible Employee, or by completing an Incident Report, which may be submitted anonymously if desired, located on the University website at www.pointpark.edu/incidentreport.
B. Indirect Reporting
Any University official who receives notice of a violation of this policy and is not listed as a confidential resource elsewhere in this policy is obligated to report that violation to the Title IX Coordinator or any Deputy Title IX Coordinator.
C. Protecting Complainants, Reporters and Witnesses
1. Retaliation
The University does not tolerate retaliation and will pursue actions against those who take retaliatory measures against reporting individuals or witnesses. When an individual reports sexual misconduct to any campus resource, that resource will work with the Title IX Coordinator or the appropriate Deputy Title IX Coordinator to ensure that the Complainant and reporter are protected from further misconduct and from retaliation for making the report. The Title IX Coordinator or her/his designee will consult with the Complainant regarding protective measures such as changes to University housing and/or academic schedules, changing office locations, removing the reporting individual's information from the Campus directory, and/or issuing a "no contact order." Protective measures applicable to students will be enforced under the Student Code of Conduct by the Associate Vice-President of Student Affairs. Protective measures applicable to staff will be enforced by the Vice-President of Human Resources. Protective measures applicable to faculty will be enforced by the Senior Vice President for Academic and Student Affairs.
2. Amnesty
Assisting students who are reporting sexual misconduct is the University's primary interest. In order to facilitate reporting, the Associate Vice-President of Student Affairs may choose not to charge students who report sexual misconduct and any material witnesses with Student Code of Conduct violations for behavior that would otherwise be considered violations (for example, consuming alcohol underage or consuming illegal drugs).
3. False Accusations
Deliberately false and/or malicious accusations of sexual misconduct, as opposed to complaints which, even if erroneous, are made in good faith, are just as serious as sexual misconduct and will be subject to appropriate disciplinary action.