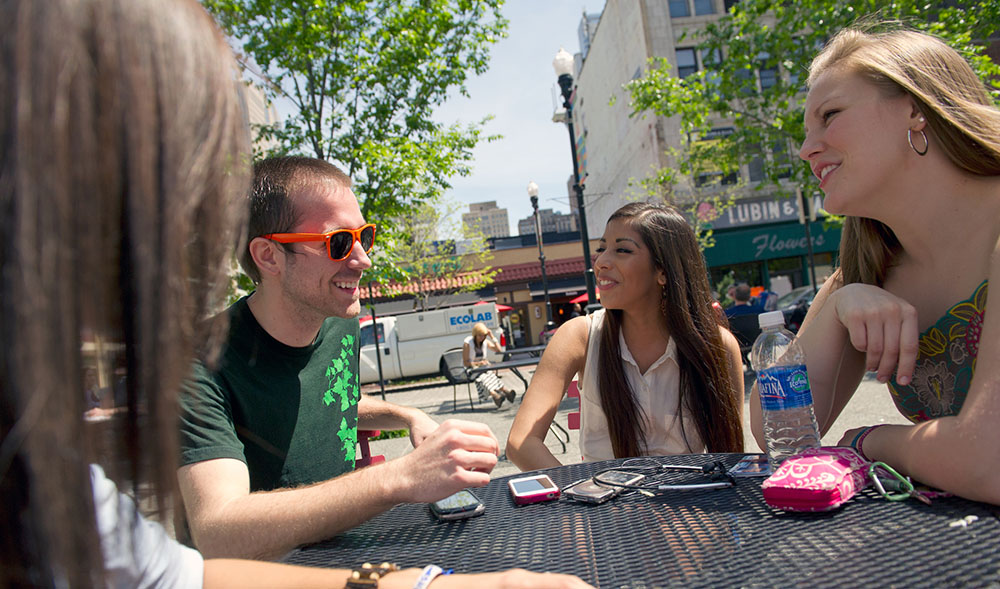 Just Outside Our Door: Real-World Pittsburgh
This is a dynamic city that makes a dynamic college experience possible. Point Park University students have access to experiences and opportunities in an exciting college campus setting unlike any other:
Our students pass business leaders, journalists, actors, scientists and engineers on the way to class.
Visits to nearby companies and organizations let our students to meet industry leaders and see firsthand these professionals at work.
Students gain invaluable industry experience through research, internship and job opportunities with leading companies and organizations
Pittsburgh is a great college town with more than 100,000 students come to study, including many international students.
Downtown's Cultural District offers a diverse arts scene with world-class music, theatre and dance.
More than 100,000 students a year choose Pittsburgh as a place to learn. Follow in their footsteps, and you won't regret it.
Neighborhoods
There's a charming, provincial quality about Pittsburgh. It's super easy to lose yourself in any one of 89 different neighborhoods. Each has its own unique vibe, nightlife and restaurants. And all beg to be explored. You'll find nightclubs on the South Side. Art galleries in Lawrenceville. Trendy shops and bistros in Shadyside and Squirrel Hill.
Culture
Pittsburgh is home to more than 200 art galleries and museums. From the family of Carnegie Museums to the Mattress Factory, you'll discover plenty of places to look, learn and be inspired. And the Cultural District in the heart of Downtown offers world-class live theater, music and dance.
Environment
Newbies to Pittsburgh learn something that the locals have known for years. Our city has come a long way from its industrial past. Now, rivers and green spaces exist in harmony with steel bridges and glass skyscrapers.
Sports
If you could see inside the heart of a true Pittsburgher, it'd be Black and Gold. No exaggeration, the city's mood is dictated by how well the Steelers, Penguins and Pirates are playing.