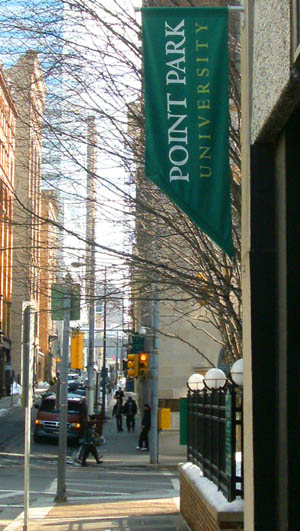 Ensuring Financial Integrity at Point Park University
The Business Office provides financial accounting and reporting expertise for Point Park University. Guided by financial integrity and internal controls, the office serves all administrative departments, employees and external audiences in support of the University's mission and goals.
Resources for University Employees
Faculty and staff can find these and other forms on Point Park's Intranet.
Check Request
Expense Report Form
Independent Contractor Agreement
Mileage Reimbursement Rates
Per Diem Rates - Domestic
Travel Advance Request
Payroll Forms and Information
Direct Deposit Information
Direct Deposit Enrollment and Authorization Form
City of Pittsburgh Local Services Tax Form
City of Pittsburgh Exemption Form
Federal Withholding Form W-4
Monthly Time Sheet
Moving Expense Policy and Procedures
Moving and Relocation Expense Report
Point Park Form HR2
Port Authority Transit EZ Pass Form
Contact Us
To reach the Business Office, use the general contact information below or use our staff listing for direct phone numbers and email addresses.
Business Office
5th floor, Frontier Hall
Phone: 412-392-3966
Fax: 412-392-3998