Finance and Operations
Supporting an environment of learning and academics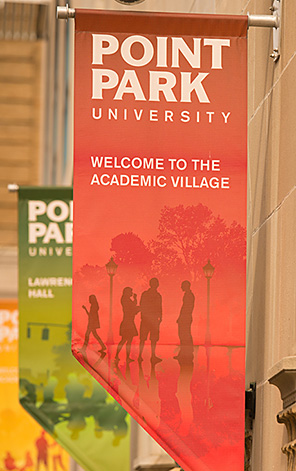 Point Park University is dedicated to providing the wide range of services and functions essential to maintaining well run campus and creating a strong environment for learning and academics.
The office of the senior vice president for finance and operations oversees the full range of business, financial management and vital operational areas of the University including the business office, student accounts, procurement services, vendor relationships, public safety, building operations, IT services and human resources.
Please follow the links below for the University office best suited for your inquiry. Point Park's general office hours are 8:30 a.m. to 4:30 p.m., Monday through Friday.
Office of the Senior Vice President of Finance and Operations
Bridget Mancosh, CPA, MBA
Senior Vice President, Finance and Operations
812 Academic Hall
412-392-3992
bmancosh@pointpark.edu
Operating Units
Business Office
Jim Hardt
Associate Vice President
5th Floor Frontier Hall
100 Wood Street
Main Phone: 412-392-3969
Human Resources
Natalie Rice
Vice President, Human Resources
7th Floor Frontier Hall
100 Wood Street
Main Phone: 412-392-3952
Information Technology Services
Tim Wilson
Assistant Vice President
208 Academic Hall
Main Phone: 412-392-3420
Physical Plant
Christopher Hill
Vice President, Operations
9th Floor Frontier Hall
100 Wood Street
Main Phone: 412-392-3490
Contracts and Procurement
4th Floor Frontier Hall
100 Wood Street
Main Phone: 412-392-8076
Public Safety
Jeff Besong
Assistant Vice President, Public Safety /
Chief of Police
2nd Floor Frontier Hall
100 Wood Street
Main Phone: 412-392-3960