Fred McLeod's broadcasting journey leads to NBA Championship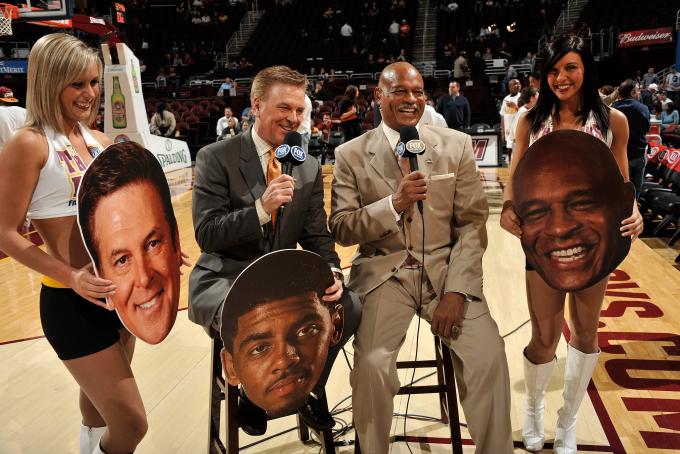 The Point
Fall 2016
On June 22, 2016, it was Point Park alumnus Fred McLeod who had the honor to serve as emcee of the Cleveland Cavaliers' NBA championship victory parade. As the team's play-by-play voice for Fox Sports Ohio, it was McLeod who was on the microphone in front of the estimated 1.3 million people in attendance. It was a big moment in McLeod's career. And that's saying something. Because in a sports broadcasting career that has spanned 42 years, McLeod has enjoyed many big moments.
Related Links
The 2016 NBA title for the Cavs was a monumental event as it ended a 52-year championship drought for the city of Cleveland. For McLeod, it was his fourth NBA championship ring, which goes along with the three others he won as the play-by-play voice of the Detroit Pistons.
McLeod's journey in broadcasting all began in St. Joseph, Mo., when the Point Park baseball team made the trip to the 1974 NAIA World Series during his senior year.
Pioneer Baseball Standout
A standout pitcher for the Pioneers, McLeod made the most of that trip to the World Series. The Pioneers made a run to the semifinals, and McLeod got to pitch. It was a great experience - the first of the Pioneers' 11 World Series trips since the founding of the University. But the best thing that came out of it for McLeod was a job offer. The rest is history.
In a story that McLeod has told many times when his Point Park days come up, he faked an arm injury on one of the Pioneers' practice days in St. Joseph, Mo. He cut a demo tape of his broadcasting work and took it to KQTV, where he auditioned at the local station. KQTV had a pressing need for a sports anchor. And coming off an internship with Sam Nover at Channel 11 in Pittsburgh, McLeod had the chops for the job. He was hired and started at KQTV right away.
When the Point Park baseball team returned to Pittsburgh after a 2-2 showing at the World Series, McLeod turned right back around and headed to Missouri. "Without baseball, without Point Park, and without that internship with Sam Nover at Channel 11, I don't know that it would have worked out the same way," said McLeod.
First Start in Broadcasting
That was the start of his professional career in sports broadcasting. He's had several stops along the way, and the last 10 seasons he's worked for the Cavs as the play-by-play voice.
A big honor that came his way early on was that at 23 years old, he was the youngest sports anchor at a Top 10 market in the country. That came at WTAW in Cleveland.
He also spent time at WSTV in Steubenville and KPIX in San Francisco. Next came 24 years as a sports anchor at stations in Detroit, where was also the voice of the NBA's Pistons.
A Strongsville, Ohio, native, McLeod grew up going to Cleveland Indians and Browns games. In high school, his family moved to Elizabeth, Pa., and he graduated from Elizabeth Forward High School, south of Pittsburgh.
Baseball was what mainly led him to Point Park. He had dreams of one day playing professionally. But he found another profession during his time with the Pioneers.
With the Cavs, McLeod is still on top of his game. He has to be, with the responsibility of covering LeBron James and NBA champs on a daily basis.
Motivation is Key
"I'm as motivated now as I was 30 years ago," he said. "You have to be. There are a lot of people who I'm sure want my job. The key is to have no entitlement - you get out of it what you put in. It is much harder than most would think, and it is all about preparation."
McLeod tirelessly works in preparation for each broadcast. It is something that he learned at Point Park and was instilled during an internship at Channel 11. "No one is going to out-work me," McLeod said. "Whether it's a preseason game or the playoffs, the approach has to be the same."
An aspect of Point Park that benefitted him was the ability to get hands-on experience within the broadcasting field. It is still something that Point Park continues to take pride in, as evidenced by the fall 2016 opening of the new Center for Media Innovation. McLeod spoke to Point Park University students in the new Center for Media Innovation on Sept. 22.
Hands On Experience
"Getting the hands-on experience in front of the camera and behind the camera, as well as the opportunity for internships, is huge," he said. "Working with Sam [Nover] opened up many doors."
The media innovation that McLeod sees as the most influential one is the advent of Twitter. It gives the media an "immediate connection to each to the fans." He should know. He leads all current NBA play-by-play broadcasters in Twitter followers.
In today's 140-character world, he stresses that brevity is a key. "You have to get people's attention, be brief and be descriptive." He has seen the sports broadcasting world come full circle from his first job at KQTV. "You have to be able to write, shoot and edit your video packages. You have to be able to do it all. That's the way it was back then, and we are seeing that again now.
"And writing is a skill that you must have. I've always had a love of writing. And I am proud of my vocabulary. I'm a storyteller, and it all starts with writing."
Text by Kevin Taylor, director of athletic communications
Photo courtesy of NBA Photos
The Point is the magazine of Point Park University