Researchers Michelle Guaragno and Mark Farrell, Ph.D. discover novel chemical process
Discovery Channels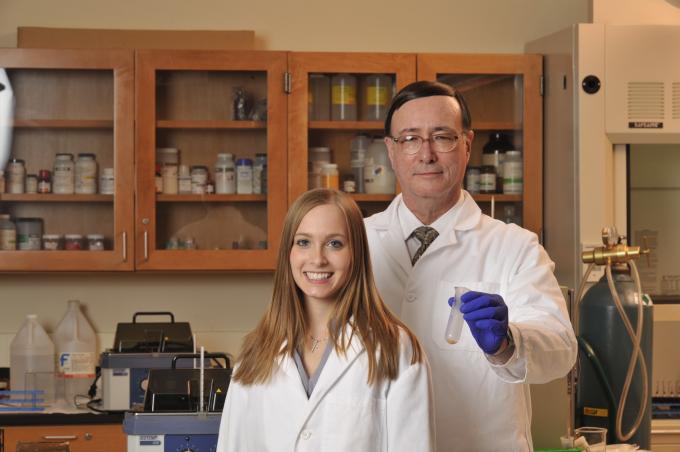 Michelle Guaragno and Mark Farrell, Ph.D. in the lab at Point Park.
It started out as an undergraduate research project in Point Park's laboratories.
Just three years later, the scientific discoveries made by Michelle Guaragno (A&S 2010) and Professor Mark Farrell, Ph.D. have formed the foundation for Marelle LLC, a new company that will develop commercial applications for a novel chemical process that can be applied to a wide range of compounds such as antioxidants, ultraviolet light (U.V.) blockers and non-steriodal anti-inflammatory drugs.
"This project evolved in an unusual way," recalls Guaragno, who in 2010 earned her bachelor's degree in biological sciences a year early (with a 3.98 GPA) and went on to receive a master's degree in biotechnology at Duquesne University. She is now completing her M.B.A. at Point Park's School of Business and teaches organic chemistry as an adjunct faculty member.
"As a Point Park undergraduate I wanted to initiate a research project, and Dr. Farrell had experience with a particular compound. We began working together and were amazed to achieve success in the lab on the first try. That rarely happens. You can work for years in the lab and not be successful."
A Novel Process
The essence of Guaragno and Farrell's discoveries was to employ nanoparticles, commonly called fullerenes, to enable water insoluble substances to become water soluble. Their "Marelle Process" allows commercially valuable compounds (approved by the FDA and the EPA) to retain their fundamental desirable properties and now be used in previously impossible ways, explains Farrell.
Not only does the Process allow these substances to maintain their essential biological and chemical properties, but in some cases increases their utility as much as 200 to 300 fold, he says.
The new technology achieves what other researchers have attempted without success-making the insoluble soluble by utilizing a remarkably efficient sequence of reactions that employ readily available materials and reaction conditions that are safe, efficient and adaptable.
Guaragno and Farrell describe the Process as flexible, economical and ideally suited for commercial manufacturing. It can be utilized for small-scale production of compounds for specialized applications in scientific or medical research, or for large-scale production of chemicals for use in skin care products and cosmetics.
As the team continues the 'bench top,' or laboratory phase of the research, they see promising potential in topical or cosmetic applications. "We've been able to show that the compounds we make have antioxidant properties that are enormously more powerful than what is currently available on the market," says Farrell. "In other words, very little is needed to achieve the oxidizing power that existing products have. So that's where we hope to make the initial entry into the market."
Growing a New Business
Marelle (derived from Guaragno and Farrell's first names) filed a patent application for their Process and several novel products last January. The company been accepted into the Life Sciences Accelerator Program at the Idea Foundry and the team has also worked with such organizations as Innovation Works and the Institute for Entrepreneurial Excellence in Pittsburgh. Development of a business plan that identifies initial markets (and the best way to gain entry) is now underway.
"We are networking to get the name of Marelle out there and trying to find out where this technology will lead us," says Guaragno. "Right now we are focusing on cosmetics, but there is also potential in the nutritional market and pharmaceuticals market as well as a licensing opportunities for the technology.
"We're open to all of the possibilities, as we determine what we want Marelle to be - now and in the future."
Guaragno, who as a graduating senior had planned a career in medicine, found she was "fascinated by the business of science." She switched gears to pursue an M.B.A. at Point Park and will eventually gain her Ph.D. "I want to be CEO of this company," she says.
"Marelle is truly Michelle's inspiration. The vision is hers," says Farrell. "She is an alumna, a graduate business student, an adjunct faculty member and now a business partner with the University. She is an incredible young woman."
Text by Cheryl Valyo
Photo by Jim Judkis
The Point is a magazine for alumni and friends of Point Park University