Psychology Dept. Hosts National Conference, Builds Programs
Top Psychology
The Point
Spring 2012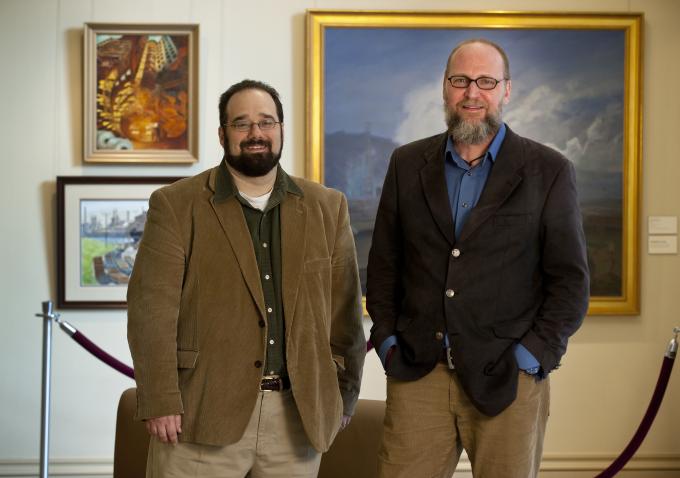 Brent Dean Robbins, Ph.D. (left), and Robert G. McInerney, Ph.D.
When members of the Society for Humanistic Psychology arrived at Point Park's Lawrence Hall for their national conference in March, the first thing they saw was an exhibit of student works.
Scheduling the poster session to welcome attendees and, in effect, launch the event was a natural choice for Conference Chairpersons Brent Dean Robbins, Ph.D., and Robert G. McInerney, Ph.D., because preparing students for research lies at the heart of their work at Point Park.
Robbins, assistant professor and coordinator of the University's psychology program, and McInerney, assistant professor of psychology, encouraged the Society to come to Pittsburgh and Point Park for its fifth conference, then worked with the American Psychological Association division to plan four days of symposiums, panel discussions and dialogues. In addition to assisting students as they completed original research for the poster session, the Point Park faculty members introduced their undergraduates to leaders from the fields of humanistic and existential psychology.
The conference was deemed a success on many levels. "Person, Consciousness and Community" attracted a record number of professionals from across the country to discuss theoretical and practical applications of the person in the context of community. A significant number were early career psychologists and young faculty and scholars.
Young Practitioners Lead Renaissance
Robbins says the age of participants reflects a "renaissance" in psychology underway across the country.
"Increasingly, young practitioners are starting with a humanistic understanding of the person," he says. And Point Park's psychology program, he notes, is directly in line with the movement.
Point Park's Bachelor of Arts in psychology focuses on the study of human science psychology that includes existential,
cross-cultural and post-structural theories. The program provides students with an understanding of the ethical foundation of psychology and fosters activist perspectives that consider the well-being of persons and their communities.
"We are interested in questions of human experience," says McInerney. "At Point Park we encourage critical and holistic
thinking, such as 'what is the person experiencing? It's a perspective that often gets neglected."
Robert Fessler, Ph.D., acting dean of the School of Arts and Sciences and longtime member of the psychology faculty,
says in recent years he has seen a shift in students' knowledge of the program.
Today, he says, a number are majoring in psychology at Point Park because they want to become clinicians or scholars and
they are aware of the University's growing reputation for preparing students well for graduate-level studies.
"We are molding students to succeed in graduate school," says Fessler. "And we are doing it by teaching them what is required to undertake rigorous qualitative research."
In Robbins's research methods class this spring, students collected data on how individuals experience joy. The juniors and seniors presented their results during the Society for Humanistic Psychology's national conference and are currently working with Robbins to prepare the research and develop an academic paper. Robbins will also include the work in his own book about joy.
Another senior recently completed a thesis on the experiences of individuals in interracial relationships. With the help
of her professors she is now gathering additional data and integrating the results.
Students in the program can work with faculty independently on projects and assist with the time-intensive work of
preparing research to be considered by peer-reviewed journals.
"Not many schools provide undergraduates with the opportunities that Point Park provides," says McInerney.
Confluence Psychology Alliance
The assistant professor has been at Point Park for six years. Several years ago he helped students organize Confluence Psychology Alliance, a club open to all majors offering "a place for multiplicity and diversity of thought, community, friendship and activism."
The group's events, which have included lectures on Buddhism and consumerism, poetry readings and service projects, attract a wide following. Every fall members present their original research projects to the group and the public. "Confluence members are passionate intellectuals," says McInerney.
During their academic studies, psychology students complete course work in the foundations of psychological
thought and classes such as Social Psychology, Psychology of Emotion and Community Psychology. They have opportunities to concentrate on specific topics starting their sophomore year and to pursue challenging internships as juniors and seniors.
William Purcell, Ph.D., associate professor and chair of the Humanities and Human Sciences Department, and Professor Sharna Olfman, Ph.D., round out the Psychology Department faculty.
This spring, Olfman and Robbins released a book, Drugging Our Children: How Profiteers are Pushing Antipsychotics on Our Youngest, and What We Can Do to Stop It. Robbins also was in the news for co-authoring an open letter that resulted in an extended national debate about proposed changes to the "bible" of mental health, the Diagnostic and Statistical Manual of
Mental Disorders, or DSM.
The "Person, Consciousness and Community" conference included a symposium about the DSM-5 revisions, one of the hottest topics in psychology today. And Point Park University students, of course, had front row seats.
Text by Colleen Derda
Photo by Martha Rial
The Point is a magazine for alumni and friends of Point Park University.