Playhouse Construction Begins with Deconstruction of facades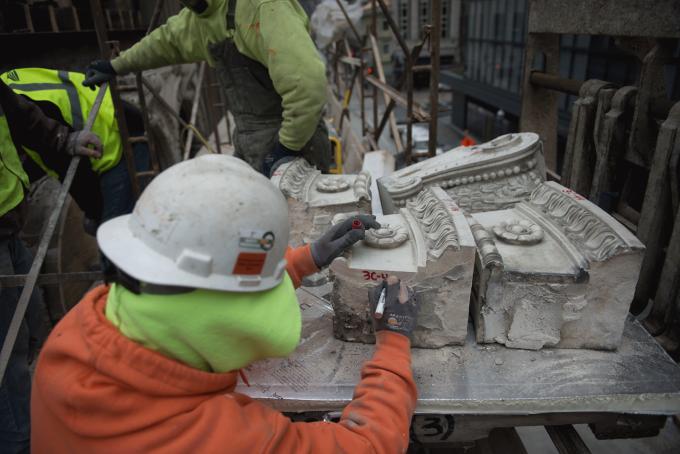 The Point
Spring 2016
Preservation is a key element in plans for Point Park University's new Pittsburgh Playhouse, a 92,000-square-foot cultural hub that is in the initial stages of construction on a 1.6-acre parcel between Forbes and Fourth avenues in Downtown Pittsburgh.
The first step, the careful deconstruction of three historic Forbes Avenue facades, was successfully completed during the winter.
Those pieces will be professionally cleaned and carefully stored away until they are reconstructed in their original form as part of the new Playhouse. The plans incorporate two historic structures - the Stock Exchange building and the University Center - with a new five-story addition that includes space for theaters, technical production and more.
History in the Making
Mick Nardozzi, lead estimator for Franco Associates, the company contracted to handle the façade removal, restoration and reconstruction, said about 95 percent of the façade pieces were salvaged. A small amount proved too damaged and will be meticulously replaced.
"I think it's safe to say it's the largest terra cotta salvage and rebuild in Pittsburgh," Nardozzi said. "The extent to which we were able to salvage intact, whole pieces was pleasantly surprising. There are still repairs - terra cotta is a clay product and it's been fired and exposed to the elements for a long time - but the high percentage we will be able to reinstall is remarkable.
This project also is unusual because the facades will be rebuilt exactly as they were, right down the replication of the windows, according to Nardozzi. "It will look exactly the same."
The buildings at 320, 322 and 330 Forbes Ave. were deconstructed after the removal of the facades.
Text by Lou Corsaro
Photo by Chris Rolinson
The Point is a magazine for alumni and friends of Point Park University.