John H. Pearson, Ph.D. is new provost at Point Park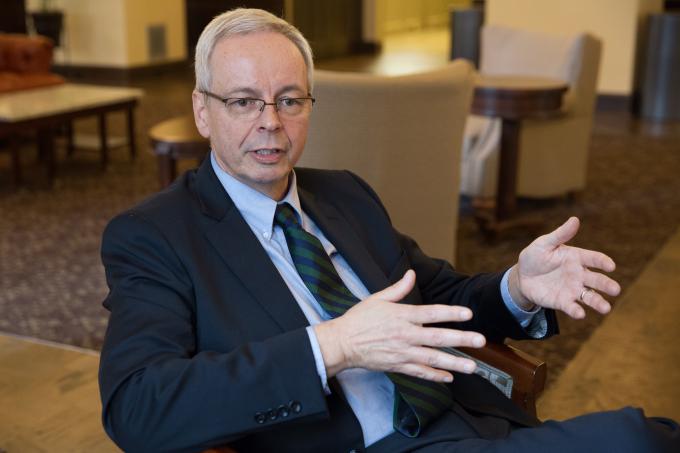 The Point
Spring 2016
Campus climate was a factor in John H. Pearson, Ph.D.'s decision to leave Stetson University in sunny Florida to join Point Park as the University's new provost.
"I wasn't drawn to Pittsburgh because of the weather!" laughs Pearson, who says he was attracted by Point Park's climate of creativity, cultural activities and commitment to academic excellence. "I was drawn away from the warm weather I love because this is where I want to be."
Pearson, who previously served as associate vice president of academic affairs at Stetson in DeLand, Fla., was selected as the University's chief academic officer after a nationwide search that drew many well-qualified candidates. He replaces Karen McIntyre, Ph.D., provost and senior vice president of academic affairs, who will take a yearlong sabbatical before returning to chair Point Park's newly established Center for Innovative Learning.
Student-centered
Related links
"John's experience clearly shows a commitment to the same values that have allowed Point Park to thrive as a student-centered university with an eye toward innovation and community engagement," says President Paul Hennigan. "Point Park is committed to a personalized support system that gives each of our students the opportunity to build a plan for a successful future."
Pearson, who holds a Master of Arts and a Ph.D. in English from Boston University, began his career in 1988 as an English professor at Stetson. "I have always loved teaching, particularly the singular focus on students," says the longtime professor, who found himself balancing teaching with a growing number of administrative responsibilities over the years. As Point Park's provost, "I hope to help others have the same great experiences teaching that I did."
Community Focus
At Stetson, Pearson founded and directed for 10 years the General Studies Program, created to improve the performance and retention of academically at-risk students. He also founded Stetson's Discovery Program, an advising program for undecided students designed to enhance student experience from first contact to the selection of a major.
And, in fact, Pearson says it was Point Park's commitment to individual student success and a community focus that drew him to the role of chief academic officer here. "The University values are very much in line with my own," he says. "I relish the opportunity to provide students with a foundation for lifelong success, and significance in their professional, public and personal lives."
Pearson says that it's critical to build "a campus culture that is learning-centered. At a learning-centered university, everyone is learning. That is, learning is meant to be happening everywhere, for everyone. For students, of course, but also for each and every one of us.
"We need to model for our students that learning is something that happens throughout your entire life, not just the years you spend in college."
City Is Campus
Pearson says he also looks forward to the experience of living and working in Downtown Pittsburgh. An avid diver and amateur underwater photographer, Pearson says he plans to enjoy Pittsburgh's beautiful rivers - but from the shore, he laughs.
His husband David, who works in finance, has also accepted a new position that will require moving from south Florida to Washington, D.C. That means the couple (and their beloved beagle) will be commuting between two major metropolitan areas, says Pearson.
After spending many years in a small college town, urban life will be a welcome change of pace, says Pearson. "It's exciting that Point Park students, faculty and staff can walk outside and find all kinds of opportunities, from professional internships in many different fields to cultural events. I am looking forward to enjoying everything that the University and Downtown Pittsburgh have to offer."
In addition, "community engagement takes on an entirely new meaning when your campus is in the heart of a city like Pittsburgh," he says. "The city is an incredible gift to our student community, but the University is also a gift to the city.
"That's extraordinary."
Text by Cheryl Valyo
Photo by John Altdorfer
The Point is a magazine for alumni and friends of Point Park University.