Karen McIntyre, Ph.D., transitions to leadership of innovative learning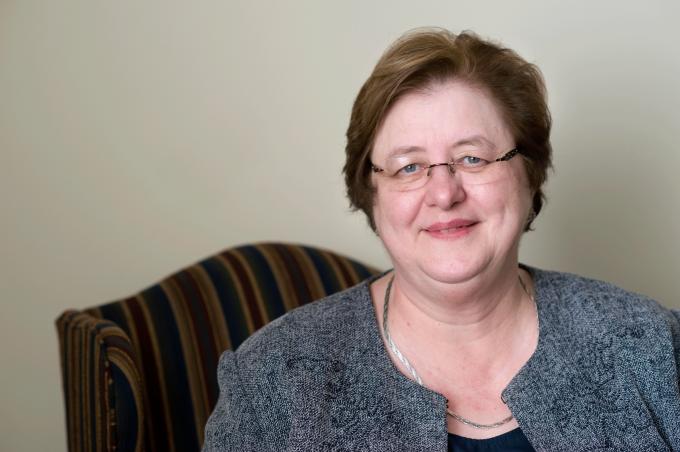 The Point
Spring 2016
Karen McIntyre, Ph.D. says that the position she has always treasured most is that of a teacher.
In June, Point Park's chief academic officer will return to her roots as an educator and lifelong learner as she transitions from her administrative role as University provost to focus on leading Point Park's new Center for Innovative Learning after taking a year-long sabbatical.
At Commencement 2016, McIntyre was presented with a Lifetime Achievement Award in recognition of her dedication to Point Park, which began in 2005 and has spanned leadership of the University's Education Department, dean of the School of Arts and Sciences, and later vice provost, provost and dean of faculty.
As chief academic officer, she has overseen all aspects of academic affairs and student affairs, from the Middle States Commission on Higher Education accreditation process to the establishment of a new core curriculum. McIntyre was the driving force behind the Point Park 2020 initiative, a comprehensive effort to examine and enhance key pillars of the student learning experience, which encompassed everything from the new core and academic structure to co-curricular experiences and city-campus life.
Students First
"It's so gratifying to look back on everything we have accomplished together," says McIntyre. "For example, the new core was created with significant engagement from faculty, students and our board of trustees, and that was really very exciting for me."
In addition, the "Pathways to Success initiative has provided new opportunities to advise and support students in completion of their degree requirements for graduation. We have a new Center for Student Success, which now includes tutoring and disability services and the integration of Career Services. And our faculty have renewed their own focus on program and professional development." McIntyre is proud to see the launch of the doctoral programs in Leadership and Administration (Ed.D) and Community Engagement (Ph.D.) at the University.
"I think we have had a shared and consistent focus on the need to put students and their needs first," says McIntyre. "So if there is anything I feel happiest about, and take the most pride in, it's that."
Innovative Learning
McIntyre's next chapter at Point Park will involve leadership of Point Park's new Center for Innovative Learning, which brings together several initiatives focused on teaching and learning - now and in the future. It will encompass the University's online programs, community-focused Ph.D. programs, and close collaboration with new centers of excellence. This includes the new Center for Media Innovation, an academic laboratory in which communications students will collaborate with media professionals and work with the latest technology.
"Innovative learning is really about creating an incubator in which we can try new ideas for higher education as we greet the class of 2020 and look to the next decade," says McIntyre. "It will involve exploring and addressing what learners want and need, from flexible learning opportunities to competency-based learning and much more."
New Ideas to Explore
"I liken it to a very big sandbox where faculty and staff will get to take risks and try new methods of instruction and delivery," she explains. "For example, Point Park Online will be based in Innovative Learning, and we hope to create some new and bold majors that play to our strengths in the arts and in entertainment management. We will also be focusing on how those courses look and how they are delivered - making them more dynamic, integrated and responsive through new tools and technology.
In addition to exploring what learners want and need, "we are also looking at what employers want prospective employees to deliver," says McIntyre. "For example, how can we do things in a different way than the traditional four-year college experience? Perhaps a student needs to study full-time for a period of time, followed by a period of full-time employment, and later online learning, to give just one possible example. We are excited to be launching a cooperative education program that will respond to these needs. We will also be exploring what I call 'flexible pathways' to explore other approaches for delivering instruction."
Change Agent
Point Park is in a very good position to lead these innovations, she says. "Our urban location is an advantage, and we are not burdened with a heavy bureaucracy as so many other schools are. We can make changes faster."
McIntyre says her upcoming year-long sabbatical will provide a much-needed opportunity to rest, refresh and continue her research and planning for her leadership of Innovative Learning at Point Park. It will be a return to her roots, she says, after spending so many years in educational administration. "I am looking forward to spending more time focusing on the teaching and learning side of my life." She will also be available to assist her successor, incoming Provost John Pearson, as he takes on his new responsibilities as chief academic officer.
Heart of Point Park
"John brings great talent and experience to Point Park and I am excited about what I believe he will bring to the position," McIntyre says. "He has deep knowledge of curriculum, faculty development, and other key issues. I think it will be a wonderful fit."
For his part, Pearson says "Karen has already been so incredibly generous in sharing her time and knowledge with me. I can never fill her shoes, although I am hoping to fill my own shoes!" Pearson says that as he has talked with campus people in getting to know the University, a common theme emerged: that McIntyre has deeply influenced Point Park, "in a very good, positive and productive way.
"One person called Karen McIntyre 'the heart of Point Park.' I think that's wonderful."
Text by Cheryl Valyo
Photo by Martha Rial
The Point is a magazine for alumni and friends of Point Park University.