Brendan Mullan shares excitement of astrophysics with students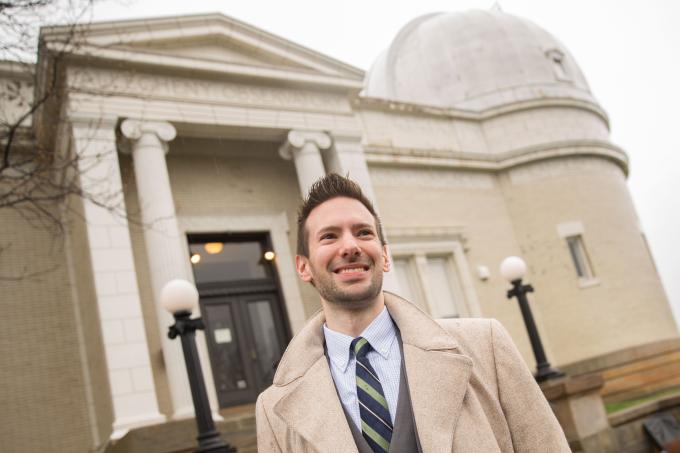 The Point
Spring 2017
As an internationally respected astrophysicist, astrobiologist, and science educator, Assistant Professor of Physics Brendan Mullan, Ph.D., didn't come to Point Park University with the idea that he'd turn every student into a fan of physics, but rather that he might incorporate scientific thinking into their daily lives.
"In this rapidly changing world, the most important skills in your professional life are to know how to ask questions, troubleshoot problems, and argue with quantifiable evidence and conviction. My task is not to teach physics for future physicists, but key physics-related skills for everyone," he says.
Growing up in Buffalo, New York, Mullan's science role models included Bill Nye and Carl Sagan, prominent science communicators he saw on TV. "They taught me that science was for everyone, that it was in essence a keen curiosity about the world around us and how we fit in and interact with it."
Inquiry-based education
Mullan received his Bachelor of Arts in Astronomy-Physics at Colgate University and both his M.S. and Ph.D. in Astronomy and Astrophysics from Penn State University. He settled in Pittsburgh three years ago to direct the Buhl Planetarium over at Carnegie Science Center and went on to co-found The Wrinkled Brain Project, a Pittsburgh-based nonprofit that develops teaching tools to promote inquiry-based education worldwide, where he is also director of science. In addition, Mullan won the 2012 nationwide "FameLab" science communication competition and was named an "Emerging Explorer" by National Geographic in 2013. In spite of the national recognition and exciting start-up opportunity, Mullan found he missed teaching and academia.
"When the position opened up at Point Park, it was perfect timing," he explains. "I've got an unusual situation in that the courses I teach are not for physics majors in particular, but all are requisite courses for other disciplines like biology or engineering. Similarly, the general science 'core' courses I teach are not meant for any science-specific training, but to round out students' educations while they're here. In that sense, my job is not like other physics professors at other universities."
A big believer in learning to think rather than just memorizing, Mullan often tells his students, "You just can't get by these days by just memorizing information and spitting it back out. We have computers for that. However, for all their processing speed and storage capacity, computers still need people to tell them what to do, so I like to think I prepare my students to think and not be replaced by machines someday."
Entrepreneurial spirit
As a scientific entrepreneur himself, Mullan found Point Park's entrepreneurial spirit a big plus when it came to the opportunity to teach here. "As a smaller institution, we're able to be more nimble and flexible than many larger schools. Unlike other universities that have to cater to specific disciplines, we cater to our students and what they need for their careers," he explains.
From a teaching perspective, Mullan says, "I can try out new techniques and different approaches that I might not have the opportunity to at other schools," he says. In fact, Mullan spent last summer designing a new 21st century physical science lab based on education theory, where physics and some other NSET courses will be taught, "a hands-on, collaborative learning experience not many students have seen before."
Looking ahead, Mullan sees the future of scientific teaching at Point Park to be a hybrid learning environment. He points out that since Point Park's student body includes those straight from high school, others working full-time, some living on campus and others commuting from long distances, he believes that, "The best approach to teaching physics will be a mix of an online learning and a uniquely on-campus experience. With the right kind of individual guidance, much of the content side of physics (knowledge) can be experienced out of the classroom, while the classroom can be reserved more for the experimental and rigorous application of physical concepts (skills)."
According to Mullan, stitching all these pieces together is more representative of how science actually works and helps develop more sophisticated thinking skills. Five to 10 years from now he predicts, "I wouldn't be surprised if our curriculum consisted of a personalized, guided online component and an in-person integrated experimenting/skills workshop.
It seems to be the best of both worlds."
Text by Barbara Vilanova
Photo by John Altdorfer
The Point is the magazine of Point Park University