Pro Bono Fashion
Point Closet thrift shop combines fashion with giving back to fellow students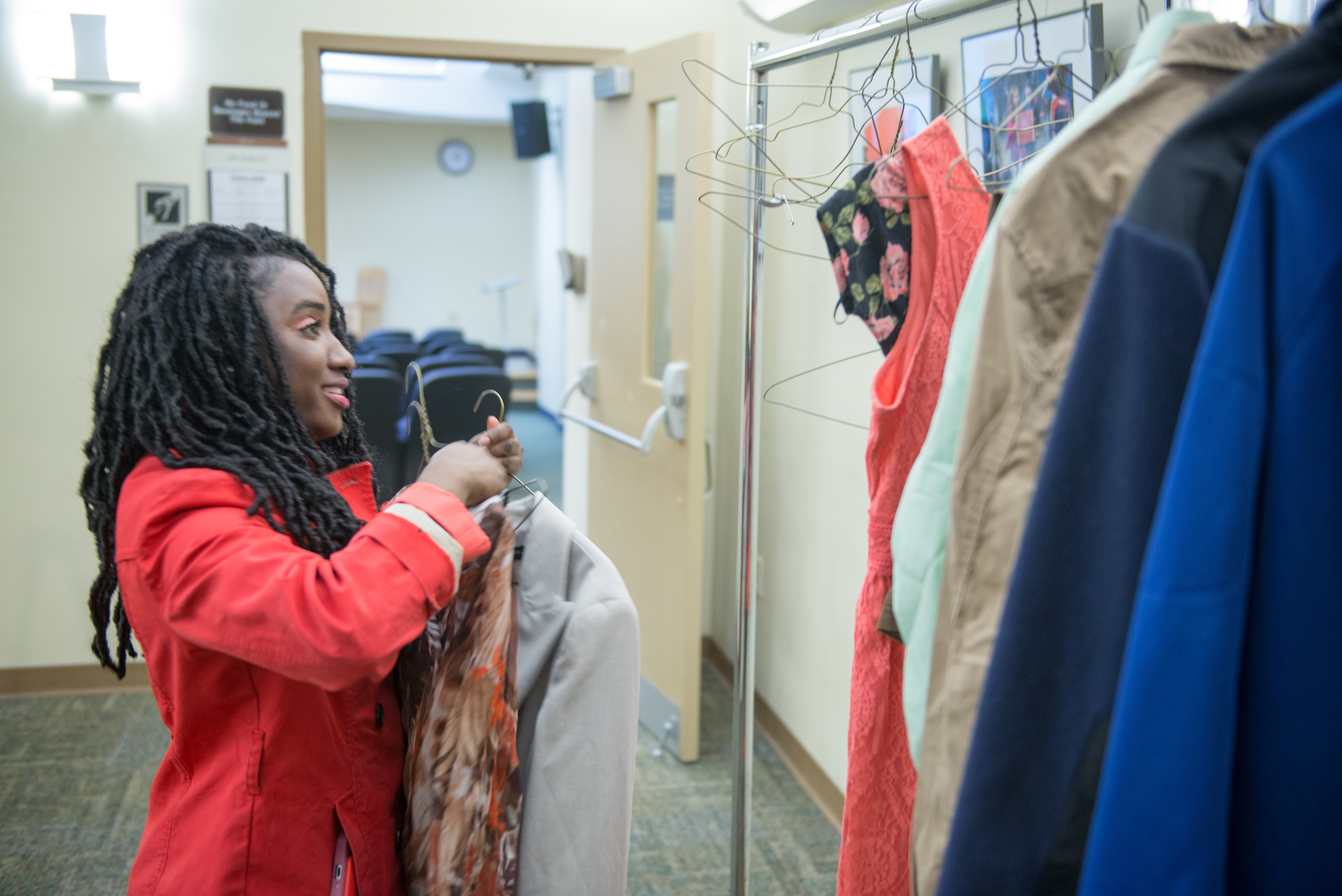 Monae Findley hosted a pop-up shop featuring items from the new Point Closet on campus last April.
The Point
Summer 2018
The Point Closet founder Monae Findley didn't have to look far to find inspiration for her love of fashion; her mom, Ameela Boyd is a fashion designer. "My mom has her own clothing line and does empowerment styling for women who are survivors of domestic violence, so combining fashion with giving back to others is part of who I am," said Findley. 
A free thrift shop for Point Park students, the Point Closet offers students a way to update their wardrobes and at the same, reduce, re-use and recycle unwanted clothing and other items that were previously getting tossed. 
"Students were throwing away perfectly good clothing, shoes and accessories because they couldn't find a convenient location to give their items away," said Findley. The 20-year-old broadcast major decided that a campus thrift shop would be the perfect solution to both finding a way to recycle gently-used clothing and make it easy for students to donate.
She brought her idea to Dean Keith Paylo, who loved the idea and challenged Findley to get her thrift shop up and running as soon as possible. Findley also credits Dean Michael Gieseke for his efforts to facilitate a physical location for the effort and Heather Starr Fiedler, chair of the Department of Community Engagement, to ensure the Point Closet was getting all the help it needed. Findley and a team of student volunteers set up donation boxes in Academic Hall which were soon filled to overflowing.
"We're getting a lot of donations but we're choosey because we want to give students only the best of what we collect. Nothing goes to waste though.  What we can't use, we donate to other non-profit organizations like Goodwill or the Salvation Army," she said. 
Proud to make a difference
The Point Closet hosted a pop-up store last spring in Academic Hall where some 150 students browsed through racks of clothing and accessories. Findley organized a partnership with the Pittsburgh Multicultural Cosmetology Academy where three students enjoyed free hair and makeup makeovers and got a new outfit.
In addition to clothing, the Point Closet also accepts decorative items, artwork, small appliances, lamps, fans, mirrors, and vacuums. 
A native of Kingston, Jamaica, Findley came to the U.S. in 2015. She attended Gateway Senior High School for a year and after a year there, enrolled at Point Park where she participates in the Point Park Competitive Cheer and Dance Team. As if that's not enough, Findley is a member of the Pennsylvania Army National Guard and is currently an E2 Private Soldier.
"I know students who are struggling with not having the money to buy clothes or items for their dorm rooms," she said. "If having a free thrift shop on campus can help alleviate some of that stress, I'm proud we can make a difference."
Students: Get involved with The Point Closet
Text by Barbara Vilanova
Photo by Chris Rolinson
The Point is the magazine of Point Park University