Doctoral program provides theory, practice for experienced leaders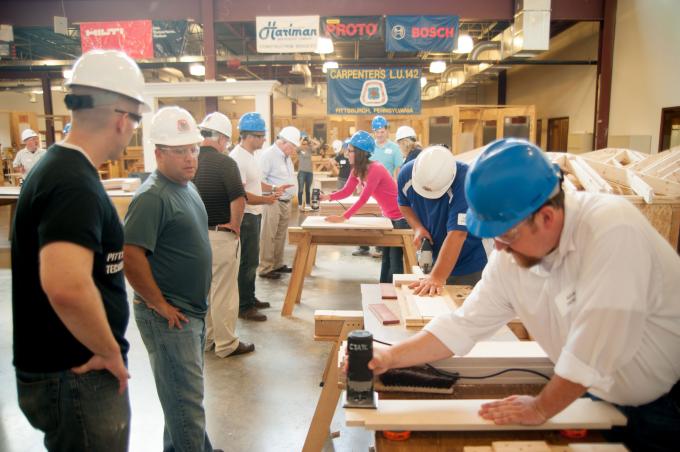 Doctoral students nail down strategies on service and team building at a kick-off event at the Greater PA Carpenters Union Training Center, where they spent a day building desks for Holy Family Academy (which serves students of limited means).
The Point
Spring 2015
"A leader's role is to raise people's aspirations for what they can become, and to release their energies so they will try to get there," according to David Gergen, a former advisor to four American presidents.
Those words helped to guide development of Point Park's first doctoral degree program, a 54-credit Ed.D. in Leadership and Administration that was initiated at the beginning of the 2014-15 academic year. Thirty-eight doctoral students began their studies last fall, filling the new program to capacity.
Related links
The program is designed to educate leaders who will be able to: function as a skilled instructional and/or organizational leader in an educational, non-profit or business environment; understand the complex interrelationships among stakeholders; use six performance domains (developed by Drs. Charles Schwahn and William Spady in Total Leaders and adapted by Pennsylvania's Professional Leadership Development Center) of authenticity, vision, culture, quality, service systems and communication to lead and effect change; and understand the role of research in guiding assessment and progress.
The doctorate offers three tracks: Professional Leadership (including those working toward Superintendent Letter of Eligibility); K-12 Administration (including principal certification); and an individualized concentration that allows students to transfer post-master's credits and focus on personalized goals. The program also includes core courses focusing on research methods and dissertation development.
Built for Working Professionals
"The Ed.D. program is designed for working professionals, those who want to improve their effectiveness so they can address the changing needs of their organization or school," says Dr. Darlene Marnich, professor and chair of Point Park's Education Department, who led the effort to establish the degree. The program is distinctive, she says, because "this is a degree that is practice-based and where research is used to directly apply to workplace goals and challenges."
Courses are offered in a hybrid format with on-site commitments reasonable enough to establish a community among students and faculty, but combined with off-site learning (via electronic media) to make it possible for professionals to meet personal obligations while finishing required courses and a dissertation in three years. Other features include: ability to transfer in up to 18 credits of post-master's credits (can complete program in less than three years); work closely with mentor(s) in the student's field leading to a comprehensive portfolio; learn from faculty and guest speakers from diverse disciplines; and benefit from an interdisciplinary framework and partnership with Pennsylvania's Professional Leadership Development Center.
Nailing Leadership Strategies
The inaugural class had the opportunity to nail down strategies on leadership, service, community and team building at a kick-off event at the Greater PA Carpenters Union Training Center in Pittsburgh last fall. They met for the first time in late August and spent a day working together to build desks for students at Holy Family Academy, an independent private Catholic high school in Emsworth, Pa., for students of limited economic means. The event was designed to introduce students to each other in a creative way, and have them become comfortable being leaders 'out of their element' while engaging in an act of service to the community, according to Helen Sobehart, D.A., director of graduate education at Point Park.
Sobehart says the event set the tone for the foundation of the program, which is to create total, well-rounded leaders who build upon their strengths to foster productive change in the community. Response from the first-year students has been enthusiastic and overwhelmingly positive, she says.
"When I moved to Pittsburgh … I began to hear so much about Point Park University," says doctoral student Cheryl Hall-Russell, president and CEO of Pittsburgh's Hill House Association and Hill House Economic Development Corporation. "The Downtown campus atmosphere was familiar to me, because I graduated from a university that was located in Downtown Indianapolis. Also, when I was interviewing for the Ed.D. program, I was really impressed with the faculty. I saw that Point Park was progressive and a university in which I would be proud to be affiliated with."
A Strong Foundation
Doctoral student Renee Hurley, director of patient relations at Monongahela Valley Hospital, agrees. "The instructors display the leadership characteristics and behaviors that we as students are learning about. The other classmates bring so much experience and expertise to the learning environment," she says. "I believe that I am making some lifelong friendships."
According to Yvonne English Roebuck, director of talent acquisition for Vibrant Pittsburgh, the Ed.D. program offers "a very strong foundation in the theory of leadership. "We all have leadership experience," she says, "but when you study the theory and science behind it, it makes you a better leader. It's about moving from being a good leader to a great leader."
For more information on Point Park's Ed.D. program, contact Lynn Ribar, associate director of the Office of Graduate and Adult Enrollment, at lribar@pointpark.edu or 412-392-3908.
Photo and video by Chris Rolinson
The Point is a magazine for alumni and friends of Point Park University.