President Paul Hennigan guides students on the pathway to success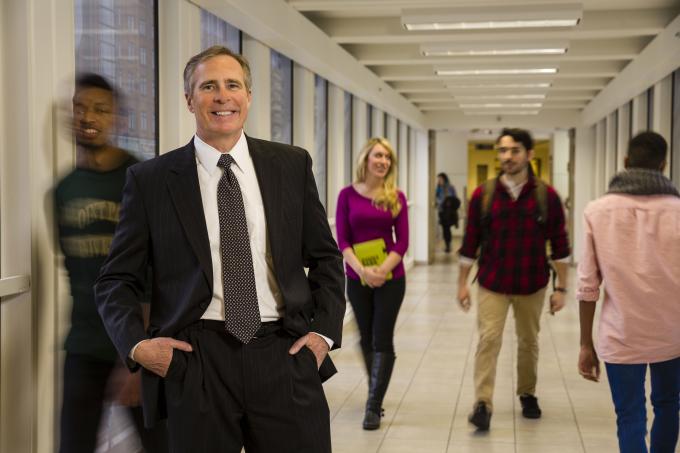 The Point
Spring 2015
When prospective students toured Point Park during Open House days last fall, some got an inside look from a particularly knowledgeable and enthusiastic guide: President Paul Hennigan, Ed.D.
Hennigan not only regularly leads some Open House campus tours, but he also pops up to work during the Pioneer Experience (Orientation), pedals alongside student leaders on his annual educational bike tour of Pittsburgh, and helps families haul belongings into the dorms. There's nothing better than personally meeting students and sharing in the excitement of beginning their college careers, he says.
Related links
As an educator and as a parent (with wife Colleen) of two college-age sons, Hennigan understands the needs of students and families in the rapidly changing environment of higher education. And, at a time when many important and innovative student-focused initiatives have been rolled out on campus, he says, there's never been a better time to be a Point Park student.
Focus on Relevance, Student Success
In fall 2014, the University welcomed the largest freshman class in its history, with more than 600 U.S. and international students starting their college careers at Point Park. The 2014-15 freshman class hailed from 35 states and 10 foreign countries and was nearly 20 percent larger than the freshman class of fall 2013.
This was the first group of first-time, full-time students to benefit from a new core curriculum, developed as part of the Point Park 2020 initiative - a comprehensive effort to enhance key pillars of the student learning experience. The initiative encompasses many of the "high impact educational practices" advanced by nationally-known educator George Kuh, including first-year experiences, learning communities, writing-intensive courses, diversity/global learning, service-learning and community-based learning, internships and capstone projects.
Point Park's new core includes such key elements as a foundational course in City-University Life, designed to help first year students develop skills for success in studying in a diverse urban community, academic requirements balanced with flexible options, and a capstone project.
"Our goals are to provide a relevant curriculum, linked to key themes and competencies, that will culminate in a senior year capstone project," says Hennigan. Through the capstone, which will serve as an assessment tool and as a potentially valuable part of a portfolio, students will demonstrate proficiency in defined areas within their major and within the core, he explains. "That's how we'll measure the effectiveness of a Point Park education."
"We want every student to graduate with a portfolio that can be presented to a potential employer," says Hennigan. "It's a bit unusual to have a portfolio in hand after completing an undergraduate degree. We believe this will be among the hallmarks of a Point Park education."
Pioneering Pathways
In addition, the University's advising system has been expanded to encompass an eight-term advising model, Pathways to Success, in which students connect with both an academic advisor and an advisor in Point Park's Center for Student Success during each semester.
"Every new freshman is assigned not only an academic advisor but also a success counselor," says Hennigan. The goal is to establish a partnership to help guide students through each of the eight terms toward completion of their degree.
The Pioneer Experience, the University's orientation program held each summer, has also been expanded and improved, according to Hennigan. A key element is educating students and parents about the new core curriculum, the expanded eight-term advising model, and other comprehensive efforts to ensure their success.
"Before their first class begins, we clearly explain to first-time students, and their parents, what they can expect for the next four years - and what each student needs to do to be successful at Point Park," says Hennigan. "It's all laid out beautifully during the Pioneer Experience. And when I see how well-organized and well-structured it is, and when so many parents take the time to personally express their gratitude afterward, it's a great feeling."
New Playhouse for a New Era
The class of first-year students that entered the University last fall will also experience yet another first: the new Pittsburgh Playhouse at Point Park University. The 92,000-square-foot cultural and educational hub will be "a game-changer for Point Park and for Downtown Pittsburgh," says Hennigan.
"The new Playhouse will be a creative crossroads that provides a wealth of interdisciplinary opportunities for students and faculty in the Conservatory of Performing Arts as well as communications, broadcasting, arts and sciences, business management and much more. This unique facility will also provide a view into 100 percent of the creative process: a 24/7 operation.
"It will be a symbol, of sorts, for the innovative learning, collaboration and intense focus on student success that characterizes Point Park."
Text by Cheryl Valyo
Photo by Richard Kelly
The Point is a magazine for alumni and friends of Point Park University