Title IX measures aimed toward safety and knowledgeability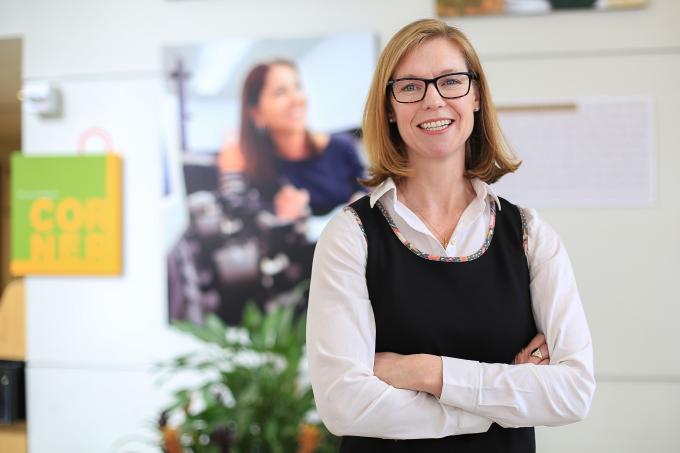 Elizabeth Rosemeyer, J.D., Point Park's assistant director of Title IX compliance
The Point
Spring 2015
Awareness of personal rights and responsibilities related to sexual misconduct, particularly on the nation's college campuses, has increased significantly in recent years.
With this heightened awareness has come a corresponding increase in questions and reports related to Title IX, the federal law that prohibits sex discrimination in any program of a school that receives federal funds, and requires schools to respond to knowledge and reports of sex discrimination in a specific manner.
Point Park places great importance on the safety and security of its students and employees and does not tolerate sexual misconduct. To that end, the University has implemented a number of measures to ensure that campus members are not only safe, but also knowledgeable about what steps can be taken if any sexual harassment or assault is experienced or observed, according to Karen McIntyre, Ph.D., senior vice president of academic and student affairs and Title IX coordinator at Point Park.
Safety and Security
These measures range from policies and practices designed to promptly and appropriately address complaints of sexual harassment and sexual violence, to comprehensive resources, training and ongoing education for the campus community. New software tools are in place to ensure that the University is keeping accurate records on Title IX-related processes, says McIntyre.
Elizabeth Rosemeyer, J.D., Point Park's assistant director of Title IX compliance, collaborates with McIntyre (and staff from key areas such as the campus counseling center, health center, public safety and student affairs) to ensure that all reports of sexual misconduct are handled in a manner that is not just compliant with Title IX, but that eliminates barriers to reporting and enables students to make informed decisions. If an investigation is initiated, Rosemeyer helps guide the process as a resource for both complainant and respondent.
Perhaps most importantly, Rosemeyer serves as a resource and works to ensure that members of the campus community have a clear understanding about the range of services and reporting processes that are available to them. An open door policy is one of the most important policies, she says.
Advocate for Students
"The goal is to help students feel empowered and in control of the process," says Rosemeyer, who also helps coordinate prevention education materials, programming, and initiatives on underlying issues such as unhealthy relationships, sexual violence, and the connection between alcohol use and sexual assault. Health and community organizations, such as Pittsburgh Action Against Rape (PAAR), are key partners in these education efforts, she says. Informative training sessions on Title IX have also been presented to all full and part-time faculty and staff.
"We want our students to know what their rights are, and how and where to make a report if they feel their rights are violated," says McIntyre. "We want faculty and staff to know how and when to intervene, and who to contact if necessary.
"The bottom line is to make our campus safer, and ensure that our students feel they've been helped and respected," says McIntyre. "That's at the core of our Title IX processes and resources."
For more extensive information on Title IX compliance and resources at Point Park, contact Elizabeth Rosemeyer 412-392-3980.
Photo by John Altdorfer
The Point is a magazine for alumni and friends of Point Park University.