Annual Security Report
Point Park Statistics and Policies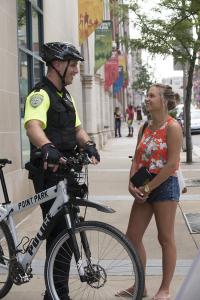 The Point Park University Annual Campus Crime and Security Report includes statistics for the previous three years on reported crimes that occurred on the campus; in certain off-campus buildings, or property owned by, or controlled by, the University; and on public property within, or immediately adjacent to, and accessible from, the campus.
The report also includes institutional policies concerning campus security, such as policies concerning alcohol and drug use, crime prevention, the reporting of crimes, sexual assault, and other matters.
You may download a pdf of the report from this web page or obtain a print copy by contacting the The Point Park University Police Department, 201 Wood Street, Pittsburgh, PA 15222.
The University's emergency response plan can be reviewed and emergency-related questions can be addressed in the Police Department, located on the second floor of Frontier Hall.