Student Advising
Guiding students toward graduation in four years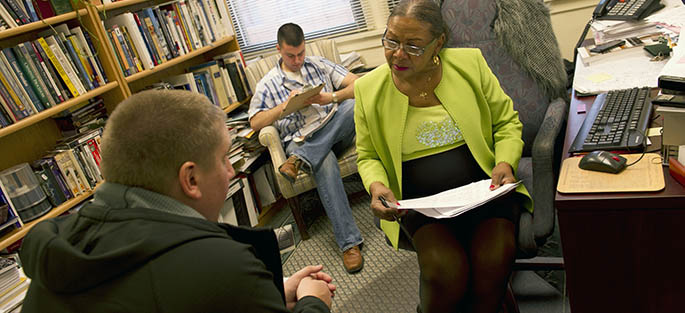 At Point Park, we make a commitment to guide each student through his or her academic program, with a goal that students pursuing a bachelor's degree graduate within four years. We follow a carefully planned, eight-semester advising process - an approach we call Pathways to Success - to ensure each student is connected to the support services, campus resources and range of opportunities needed to complete his or her degree within that time frame.
These connections take three primary paths:
Connections to the University - ensuring students know resources, services and opportunities available to them at Point Park
Connections to the academic program - ensuring students become immersed in their major beyond the classroom, such as clubs, internships, master classes, guest speakers, and faculty-led study abroad trips
Connections to the community - ensuring students become familiar with Downtown Pittsburgh as their campus, including opportunities for internships, career exploration, community service, recreation and cultural experiences.
The Advising Process
Through Pathways to Success, all incoming freshmen are assigned two individuals who will advise and guide them throughout their time at Point Park:
Students who are undecided on a major work with success coordinators in the Center for Student Success until they select an academic degree program. At that point, they will be assigned a faculty advisor within their major.
Faculty Advisors
Each student should meet at least once per semester with his or her faculty advisor, a professor who teaches in his or her academic major and thoroughly understands that program and its degree requirements, including core curriculum, course sequencing and prerequisites.
Faculty members can also offer information about internship opportunities, career paths and professional connections related to that major.
In advising sessions, faculty members may ask students questions such as:
How has your experience been in the program so far?
How are you doing in your classes?
What courses are you considering for next semester?
Is your major a good fit for you?
Have you made time to join a student club or project within your major?
Are you aware of program-specific scholarships?
What are your plans for an internship?
Have you considered graduate school?
Success Coordinators, Center for Student Success
Each student should meet at least once per semester with his or her success coordinator in the Center for Student Success, which serves as a central resource for all undergraduate students at Point Park. Success coordinators assist students in many ways, including registering for classes, declaring or changing a major, fulfilling core curriculum requirements, and meeting course requirements for their major.
In addition, success coordinators can connect students with other University professionals in situations of financial concerns, health or wellness issues, career development, or any other circumstance that may be creating challenges. The Center for Student Success also provides tutoring, writing assistance and disability services.
In Center for Student Success meetings, success coordinators may ask students questions such as:
How are your classes going?
Have you met with your faculty advisor?
Do you need help with study skills, time management or test-taking strategies?
Do you have any financial concerns?
Have you become involved with any student groups or organizations?
Have you visited the Career Development Center for help with career exploration, resume writing or professional networking?
Questions?
If you have questions about student advising at Point Park or the Pathways to Success program, please contact the Center for Student Success at 412-392-8153 or css@pointpark.edu.