Fire Service Administration Minor
FIRE SERVICE MINOR REQUIREMENTS | REQUEST A MINOR FORM | SCHEDULE OF COURSES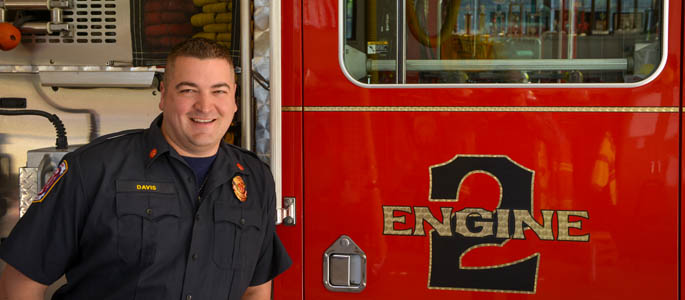 Fire Service Administration Minor Offered Fully Online
Whether you are a volunteer or career firefighter, a minor in fire service administration can help you build the skills necessary for leading your department into the future.

Developed from the Fire and Emergency Services Higher Education program of the National Fire Academy, this minor will take your work experience and public safety training to a new level of leadership and management to help you advance your department and your career.
Fire Service Administration Course Offerings
The following fully online courses (18 credits total) need to be completed to earn a minor in fire service administration:
Fire and Emergency Services Administration
Political and Legal Foundations of Fire Protection
Fire Prevention Organization and Management
Personnel Management for the Fire and Emergency Services or Special Employee Relations
Community Risk Reduction for the Fire and Emergency Services
Applications of Fire Research
These courses are also offered as a concentration within the B.S. in public administration program. In addition, many current Pennsylvania Department of Health, National Board of Fire Service Professional Qualifications and International Fire Service Accreditation Congress certifications can count toward college credit in our public administration program.
For a comprehensive list of course descriptions, see the Rowland School of Business course catalog.