Cinema Arts Production Equipment
Production Equipment
Students use state-of-the-art industry-standard equipment to produce films and projects. Some of our production equipment includes:
Cameras

Sony PMW-FS7 camera package
Sony PMW-F5 camera package
Panasonic DVX200 4K camera package
Accessories

Odyssey 7Q+ monitor/external recorders
24" HD monitor
17" HD monitor
Other professional equipment including small HD monitors, viewfinders, slates, spiderbraces, mount converters and more.

DSLR cameras

Nikon D50
Canon T3i
Canon T3

Lenses

Zeiss ZF.2 Cine prime lenses

 

15mm, 25mm, 35mm, 50mm, 80mm

FS7 canon lens kit

16mm, 35mm, 50mm, 85mm, 100mm

Ruby 14-24 T2.8
Nikon 70-200mm f2.8

Audio

Sound devices 664 six-channel portable production mixer with integrated recorder
Sennheiser MKE 416 shotgun mic
Zoom H2n, H4n, H6n audio recorders
Zoom H6n shotgun mic
Dual Sennheiser G4 lavaliere mics
Various professional audio recording and rigging equipment including boom poles, mike clamps, mole skin, wind filters, noise dampening cages and more.

Lighting 

Lowell Tota, Omni, Pro tungsten lighting kit
Arri Softbank D5 HMI light kit plus
Rosco LitePad daylight kit
Astra Litepanel bicolor kit
575 D5 Fresnel HMI lights
Arri D12 1200W HMI Fresnel lights
Fluorescent Softbox kit
Chinaball kit
KW/2 LSL fluorescent light kit
Sekonic light meter
Various electrician equipment including extension cords, splitters, hand dimmers, surge protectors and more.

Grip Equipment

Fischer Doorway dolly with sleds
4ft, 8ft straight dolly track
90º curve dolly track
100mm HiHat
40" C-stands
20" C-stands
18" and 24" C-stand extension
Bounce card kit
Westcott fast flags scrim kit
Standard flag kit
4x4 flag kit
40"x40" reflector, yoke and stand
8x8' overhead butterfly

 

Flex fill - silver/muslin
Duvatine
Various professional grip equipment including quicker clamps, crimping wedges, butterfly clamps, apple boxes, hand clamps, sandbags, pipe clamps and much more.
Photos
Cinema Arts Department Facilities
Two PC-Animation Labs with XP-PEN Monitor Drawing Tablet
Two Individual PC-Animation Suites with XP-PEN Monitor Drawing Tablet
Animation Software:

Adobe Creative Suites: After Effects, Photoshop, Illustrator, Premiere, etc.
Cinema 4D
ToonBoom Harmony
Autodesk Maya
Zbrush
Dragon Frame
Unreal Engine
Three Mac Edit Labs
Five Individual Mac Edit Suites
Two Color Correction Suite with Blackmagic Design DaVinci Resolve Mini Panels
Software Available:

Adobe Creative Suites: After Effects, Photoshop, Illustrator, Premiere, etc…
Avid Media Composer
Avid Protools Ultimate
Movie Magic Budgeting
Movie Magic Scheduling
DaVinci Resolve
Main 5.1 Mixing Room with Pro Tools Ultimate, Avid C24 mixing desk, and 90" Full HD LED TV
Secondary 5.1 Mixing Room with Pro Tools Ultimate and Avid Artist Control/Mix surfaces
Foley/ADR Recording Suite
Soundstage
A 2,738-square-foot soundstage three stories high, a 15-foot-high catwalk and 24-foot-high ceilings with ETC Lighting System to provide professional-level learning opportunities to students in multiple disciplines, including cinematography, audio work, lighting work and aesthetics. Check out more photos of the soundstage.
Production Studios
Two Production Studios
10' x 12' Green Screen
20' x 13' Two-wall Cyc
30-ft Screening Facility
DMX Lighting Grid w/96 Dimmers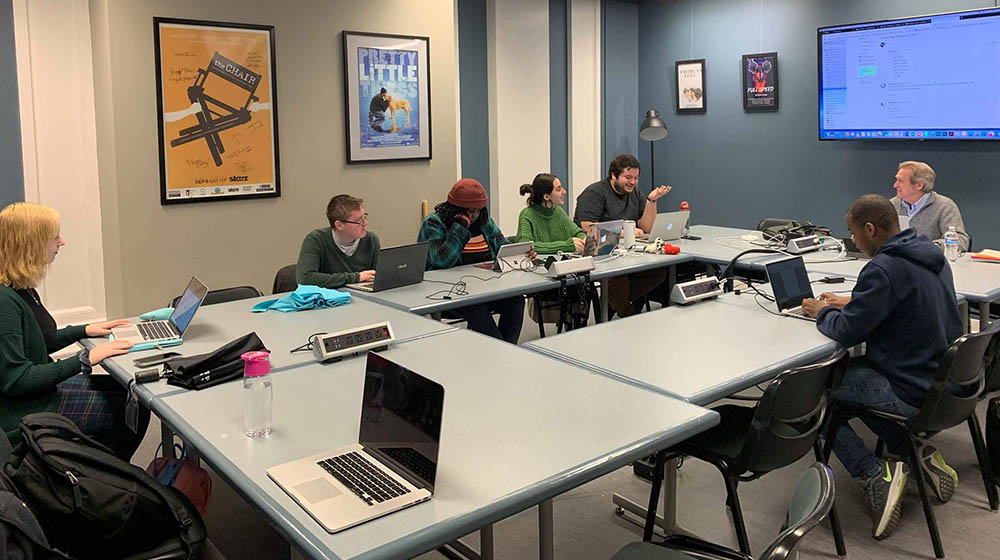 The writer's room is where screenwriting students can workshop their screenplays in a professional setting.
Two 60" Full HD Smart LED TV
HD Webcam Capabilities for Skype Sessions
Power-Outlets at Table for Laptops
Map of Cinema Arts Facilities