Chair of Cinema Arts
Associate Professor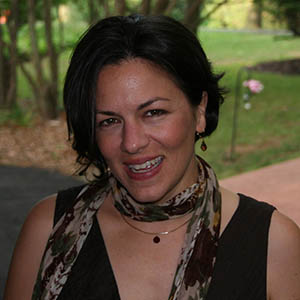 Contact Information
Education
M.F.A., Science and Natural History Filmmaking, Montana State University
B.A., Art History, concentration in Photography, William Patterson University
Courses Taught
Cinema Technology and Technique
Production I, II and III
Cinematic Representation
Directed by WOMEN
Intermediate Producing
Advanced Producing
Fundamentals of Documentary
Documentary Workshop
Cinema Capstone
Background
Associate Professor Laura J. Boyd's interest in travel, adventure and natural history steered her to the path of documentary filmmaking.
After completing a B.A. in Art History and Photography, she spent nearly a decade traveling the globe while working for natural history and expedition travel companies. Serving in the roles of cruise director and expedition leader for the company Society Expeditions, Boyd traveled to Alaska and the Russian Far East, Polynesia, Chile, Argentina, the Falkland Islands, South Georgia and Antarctica.
A brief stint working for IMAX convinced her to pursue an M.F.A. in Science and Natural History Filmmaking at Montana State University. Her first week of class was spent filming bison in Yellowstone National Park – she had found her bliss.
In 2006, she was hired by National Geographic and produced content for the National Geographic Channel, National Geographic Mission Programs, National Geographic Explorer, Wild Chronicles for PBS and the award-winning children's television series Wild Detectives.
In 2011, she joined Point Park University to begin the next phase of her career, as faculty in the cinema program, overseeing the producing concentration and teaching as many documentary classes as possible.
Selected Works
National Geographic's Explorer, associate producer, 2009-2010
National Geographic's Wild Chronicles for PBS, coordinating producer, 2007-2008
Wild Detectives, series producer, 2007-2008
National Geographic's Dangerous Encounters, associate producer, 2006
Caballo Loco on Easter Island, writer, cinematographer, director and producer, 2005
Selected Publications
"Mythologizing the History of Easter Island through Documentary Films," Rapa Nui Journal, May 2007, Vol. 21
Selected Awards
National Geographic's Explorer: Talibanistan, Emmy nominee for research, 2011
National Geographic's Wild Detectives, Special Jury Award, 2009 and Parents' Choice Award, 2008
National Geographic's Wild Chronicles, Golden Eagle Award, 2008
Point Park Feature