Teaching Artist
Contact Information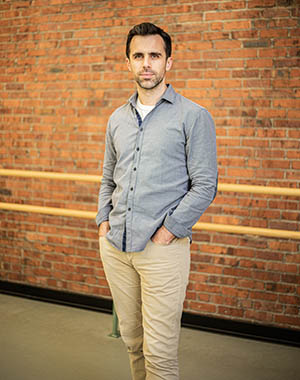 Education
M.F.A., Interdisciplinary Arts (focus on dance for film), Wilson College
B.F.A., Dance, Point Park University
Courses Taught
Classical Ballet 
Dance Composition I, II, III
Entrepreneurship for the Arts
Pas de Deux
Male Technique
Background
Daniel Karasik is a multidisciplinary artist. As a filmmaker, his most recent silent dance short, Le Spectre de la Rose, was internationally awarded for Best Dance Short, Best Director and Best Original Score.
Karasik has created more than 70 choreographies for stage which have been reviewed as "grace and beauty personified," having "intellectual glamour," and being "a wonderfully effective series of dance essays." His work, Volumes, was in a performance named one of "Pittsburgh's Seven Most Transportive Dance Programs of 2016."
Karasik has provided artistic direction for the Morgantown Ballet Company and Dayton Arts Project. He has danced professionally in Pittsburgh, with The Georgia Ballet and The Dayton Ballet.
He has taught at Point Park University for 11 years, and continues to teach and choreograph throughout the United States, at companies, schools and festivals.
Selected Artistic Works - Choreography
Le Spectre de la Rose, a dance film
In the Space Between Us, Point Park University
Seasons, ChiArts, Governor's School for the Arts
Teaching Credits
American College Dance Association 
The Chicago High School for the Arts (ChiArts)
Dayton Ballet School
Nashville Governor's School for the Arts
International Summer Dance and National High School Dance Festival, Point Park University
University of Kansas City Missouri
Morgantown Dance Studio
Pittsburgh Civic Light Opera
Reed Dance
Skidmore College
Point Park Feature