Garfield Lemonius, M.F.A.
Dean and Artistic Director, COPA
Professor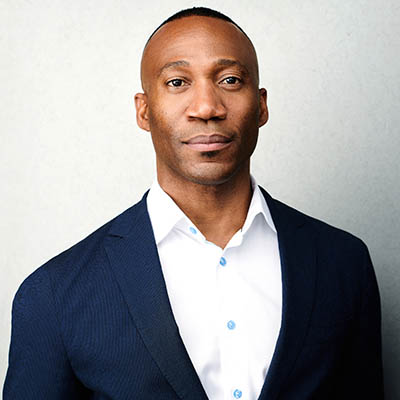 Contact Information
Education
M.F.A., Dance, Southern Methodist University
B.Ed., Secondary School Education, York University
B.F.A., Dance, York University
Courses Taught
Choreography
Contemporary Dance Styles
Specialized Modern Dance Techniques
Senior Project
Background
Garfield Lemonius' career adventures include performing in film, contemporary dance companies, and solo guest works across the United States, Canada and Europe. He was a principal dancer with the Dallas Black Dance Theatre, where he performed works by noted American choreographers, and toured throughout the U.S. and Europe. He has worked with acclaimed choreographers including Robert Battle, Colin Connor, David Parsons, Bruce Wood, Charles "Chuck" Davis, Alonzo King, Donald McKayle, and Kevin Wynn, and has performed solo works by renowned dance icons including Talley Beatty, Asadata Dafora, Jose Limon and Martha Graham.

Lemonius serves on numerous boards including the advisory board for the Pittsburgh Dance Council, the advisory committee for the National High School Dance Festival, and previously on the National Association of Schools of Dance (NASD) Committee of Ethics, and on panels at national dance conferences. In 2018, he received the National High School Dance Festival Outstanding Service Award, the Festival's highest honor.
Prior to serving in his current role as dean and artistic director of the Conservatory of Performing Arts at Point Park University, Lemonius was professor and dance department chair in the Conservatory.
He continues to teach and choreograph for companies, festivals and other academic institutions across the U.S., Canada and Australia. 
Professional Memberships, Certifications and Affiliations
Pittsburgh Dance Council
Texas State Board for Education Certification
Ontario College of Teachers
Elementary and Intermediate Laban Notation Certification
National Association of School of Dance
Selected Performances and Artistic Works
Dallas Black Dance Theatre, Principal dancer
Blues Brothers 2000, Principal dancer
Canadian Armed Forces show tour, Principal dancer
Main stage performances, Rehearsal director, Point Park University
Teacher
Teaching residency, CalState Fullerton
The Debbie Allen Dance Institute Summer Intensive
Southern Methodist University
University of Oklahoma
International Summer Dance, Point Park University
University of Texas in Austin
York University, Toronto
The Newtown Performing Arts High School, Sydney, Australia
August Wilson Dance Ensemble
Pittsburgh Youth Ballet Company
Jazz Dance World Congress, Point Park University
National High School Dance Festival, Philadelphia, Pa.
Pittsburgh Youth Ballet Company
Research Interests
Choreographic theory and practice
Curriculum development
Instructional theory and practice
In the News