Professor Emeritus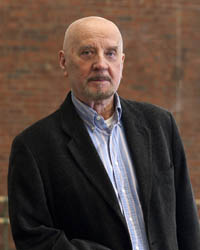 Education
Ph.D., Philosophy of Dance, University of California, Los Angeles
School of Madame Olga Preobrajenska
Yugoslavian State Academy
Courses Taught
Ballet
Character Dance
Choreography
Dance Analysis
Production, Rehearsal and Performance
Background
Nicolas Petrov, Ph.D., is an internationally acclaimed dancer, choreographer and artistic director with more than 50 years of experience.
After graduation in his native country of Yugoslavia, Petrov became a member of the Opera Ballet of Belgrade. Later, he went to Paris to study with Olga Preobrajenska. Discovered by Janine Charrat, he joined her company Ballet de France. After touring Europe, he began a three-year engagement with Theatre D'Art du Ballet as first dancer and toured the Middle and Far East. He became the leading dancer for Leonide Massine, performing with Milorad Miskovitch, Duska Sifnios, Paolo Bortoluzzi and Carla Fracci. He went on to dance, choreograph and produce for the French television station ORTF. Concurrently, he worked with Massine in ballets such as The Nutcracker, The Three-Cornered Hat, Beau Danube and La Boutique Fantasque. He performed the choreography of Jean Guelis and Dick Sanders, and in Joan of Arc for Milko Sparemblek. In addition, he formed his own dance company, Ballet Petrov.
In 1967, Petrov revolutionized the dance world in Pittsburgh. He took over the direction and development of the Pittsburgh Playhouse Ballet Department and subsequently launched the dance program at Point Park. He simultaneously launched the Pittsburgh Ballet Theatre, and brought some of the world's finest dancers and choreographers to Pittsburgh such as Natalia Makarova, Violette Verdy, Edward Villella, Peter Schaufuss, Leonide Massine, Ruth Page and John Butler.
Petrov has choreographed more than 100 ballets, eight of which are full-length productions. He choreographed the American premieres of Prokofiev's Romeo and Juliet and The Prince of Pagodas, and the world premieres of Maria Sabina, Steel Symphony and Americana R.F.D. He also served as the permanent choreographer for the Pittsburgh Opera, director of the Dance Division of Fine, Applied and Performing Arts at Point Park, and founded the American Dance Ensemble of Point Park. He imported some of the greatest teachers in the world including Marina Stavitskaya, Asaf Messerer, Jean Guelis, Vassili Sulich, Mikhail Korogodsky, Gabriella Komleva, and Lillia Sharapova. In 1983, he revived Ballet Petrov as a concert group, consisting of guest dancers and Point Park College faculty, to supplement the American Dance Ensemble.
Professional Membership
Selected Artistic Works
Full-Length Ballets
Swan Lake
Romeo and Juliet
Prince of Pagodas
One Act Ballets
Peter and the Wolf
Rite of Spring
Guest Choreography
Choreography in Operas
Ballet Petrov
Selected Publications
In the Shadow of the Greats
The Dance Method
Point Park Features