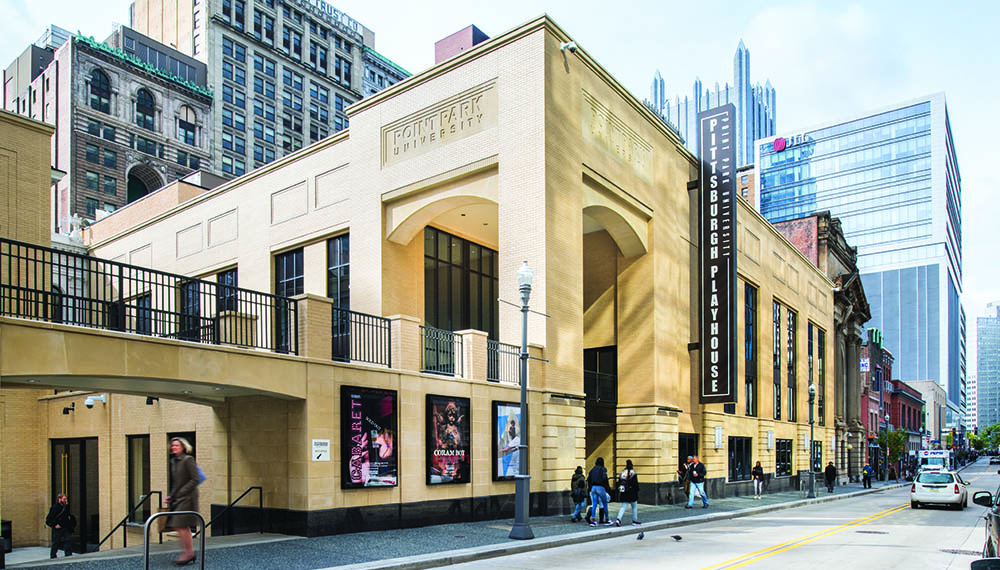 The Award-Winning Pittsburgh Playhouse
The award-winning Pittsburgh Playhouse — located at 350 Forbes Avenue in Downtown Pittsburgh — showcased by beautifully preserved historic facades and a restored stained-glass ceiling in the Stock Exchange Building, is a 24/7 operation with:
The Playhouse also has a 10,000-square-foot production area, and more than 11,000 square feet of tech space for technical theatre and cinema arts programs.

The Playhouse offers the public an intimate view of the making of art, as large windows offer an unobstructed view of performance venues typically shielded from observation. A hangar door connects one theatre inside the Playhouse to the outdoor courtyard, providing students the opportunity to perform for the Downtown public at large.
The three-theater complex is home to The REP - the professional theatre company - and three student companies: Conservatory Theatre Company, Conservatory Dance Company and Playhouse Jr.
The Pittsburgh Playhouse maintains a rigorous performance calendar, entertaining more than 30,000 patrons annually.
Point Park University's Dance Complex
Video by Dylan Letorney, content creator and creative producer of Hybrid Media Productions
This $16 million dance complex opened in 2008 in the heart of Downtown Pittsburgh. It is a Gold LEED-certified building and one of the few green arts facilities in the region. The 44,000-square-foot complex includes:
Four floors with extra-height ceilings, comparable in size to a six-story building
Five studios for rehearsals and performances, with space for three additional studios (all studios are compliant with all National Association of Schools of Dance and industry-specific requirements)
State-of-the-art heating and cooling systems, ventilation, flooring, lighting, acoustics and equipment
On-site student lockers, showers, changing spaces and bike racks
For more information, check out the campus map that shows these facilities, as well as other key locations.
Studios and Classrooms
Theatre and academic classes are held in classrooms and studios on campus in the following locations:
Boulevard Studios
The new Pittsburgh Playhouse
Classrooms, piano lab and studios in Lawrence Hall
Classrooms and private voice studios on the lower level of Thayer Hall
Classrooms and the GRW Theater in the University Center