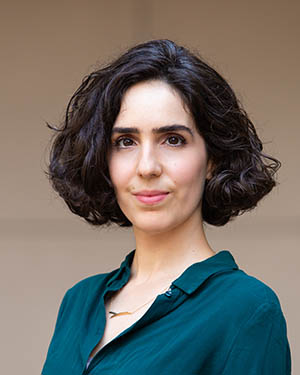 Visiting Assistant Professor
Director of Acting
Contact Information
Education
M.F.A., Theatre, The American Repertory Theater/Moscow Art Theatre Institute for Advanced Theater Training at Harvard University
B.A., English, The American University of Beirut
Courses Taught
Junior Acting Studio
Senior Acting Studio
Shakespeare
Background
Milia Ayache is a Beirut-based actor, writer and Linux enthusiast. She originated the role of Molly in The Birth of Paper, an online/offline show linking the cities of Beirut and Pittsburgh through the mail, as well as The Performer in Angelmakers: Songs for Female Serial Killers, both plays produced by Real/Time Interventions.
Her latest piece of writing "Vocal Hygiene for the Revolution" was published in Contemporary Theatre Review. Her article "Playing for Time in Beirut" on making theatre in public spaces was published in Stages of Resistance: Theatre and Politics in the Capitalocene (NoPassport Press).
She recorded the entirety of Etel Adnan's The Arab Apocalypse for the Sfeir-Semler Gallery in Hamburg. Favorite credits include Frog and Nadezda in Masrah Ensemble's production of Derek Walcott's Ti-Jean and His Brothers and Biljana Srbljanović's Family Stories; Hermia in Walden Shakespeare's A Midsummer Night's Dream, and Miles in the world premiere of Futurity: A Musical.
In 2022, Ayache will be in residence at Hedgebrook where she will continue writing two plays: Rebar Dreams and Divas You Don't Know. 
Professional Memberships/Organizations
Drama editor, Rusted Radishes, Beirut literary and art journal 
Selected Artistic Works
The Birth of Paper, Molly, Real/Time Interventions - Rusty Thelin, 2021
Angelmakers: Songs for Female Serial Killers, The Performer, Real/Time Interventions - Rusty Thelin, 2016-17
Ti-Jean and His Brothers/Family Stories, Frog/Old Man/Nadezda, Masrah Ensemble - Eyad Houssami, 2016
A Midsummer Night's Dream, Hermia, Walden Shakespeare - Careena Melia, 2015
An Orchard of Cherries, Anya/Charlotta, Enthuse Theater - Ashley Tata, 2012
Futurity, a musical by the Lisps, Miles/band member, ART - Sarah Benson & The Walker Art Center, 2012
Selected Publications
"Vocal Hygiene for the Revolution," Contemporary Theatre Review, August 2020
"Playing for Time in Beirut," American Theater Magazine, March 2019