Professor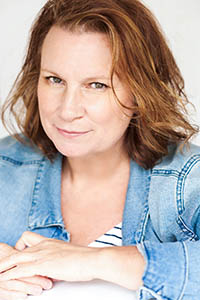 Contact Information
Education
M.F.A., Performance Pedagogy, University of Pittsburgh
B.F.A., Acting, Point Park University
Courses Taught
Directing
Acting
Improvisation for Actors
Experimental Theatre
Senior Capstone
Dialects and Accents
Background
Sheila McKenna is a theatre director and actor, frequently working with new plays and their development. She has originated roles in plays by Christopher Durang (Mrs. Bob Cratchit's Wild Christmas Binge), Michele Lowe (String of Pearls, Mezzulah, 1946) and Tammy Ryan (In the Shape of a Woman), among others. McKenna's acting performances span multiple theatrical genres and styles, including classical, improvised and devised texts, musicals, radio plays and voiceovers, and experimental theatre. 
McKenna's directing work for the Conservatory of Performing Arts includes The History Boys, You On the Moors Now, Top Girls, The Two Gentlemen of Verona and Cloud 9. Her artistic teams with Conservatory shows typically include student designers and assistant directors. For The Rep, the university's professional theatre company, she has directed Lost Boy Found in Whole Foods (cited by the Pittsburgh Post-Gazette as one of the 'Best' of Pittsburgh theatre directors in 2011), The Queens (with André Koslowski), the world premieres of playwright Tammy Ryan's FBI Girl and Baby's Blues, as well as Anton in Show Business (named one of the Best Plays 2003 by the Pittsburgh Post-Gazette) and Ryan's play Pig.
For Quantum Theatre, McKenna's performances include "Anne Hathaway" in Shakespeare's Will, director Melanie Dreyer's stunning production which included original music by and with violinist Dawn Posey, and "Vermandero," the guitar-strumming father in Dog Face, directed by Dan Jemmett (McKenna composed Vermandero's lament); that acclaimed production toured to Madrid's Festival de Otoño. Also for the company, McKenna has directed The Gun Show, Madagascar and El Paso Blue.
McKenna has been honored to regularly perform with the City Theatre Company and support their annual Young Playwright's Festival as a director and their Momentum new play development series as both an actor and director.
McKenna's directing work with Pittsburgh Irish and Classical Theatre includes memorably powerful and poetic productions of John Millington Synge's Riders to the Sea, Harold Pinter's The Room and the world premiere of Bruce Dow's musical Wilde Tales. Several productions McKenna directed for the company are cited among the Pittsburgh Post-Gazette's 'Best of Theatre' honors.
McKenna is a member of Tanztheater André Koslowski, performing experimental dance-theatre and serves as a contributing collaborator under the direction of Mr. Koslowski. In 2009 they co-directed The Queens for The REP, and Mr. Koslowski choreographed several dances in her original-practices inspired production of The Two Gentlemen of Verona for the Conservatory.
Among many memorable collaborations, she has played opposite Fred Rogers (Mr. Roger's Neighborhood), Tyne Daly (Stuck With Each Other), a mailbox (Kimberly Akimbo), and her fictional upright-bass slapping brother Earl (writer Elena Passarello) in their drag music-comedy act, The Muthers Brothers. Her film work includes director Fredrick Johnson's After Hours Trading, Homemakers (director Colin Kane Healy), Alone in the Neon Jungle (director Georg Stanford Brown) and Director Meredith Cole's Achilles' Love. She has written two short plays, Wanted and Hum, both produced by the Women's Work Festival.
Professional Memberships
Actor's Equity Association
SAG-AFTRA (Screen Actor's Guild/American Federation of Television and Radio Artists)
Selected Performances
The Rivals, Pittsburgh Public Theatre, PlayTime
Life-Changing Magic, City Theatre, Momentum Festival
Pipeline, City Theatre
Midnight Radio, Bricolage Theatre Company
por la blanda arena, TanzTheater André Koslowski
Monster in the Hall, City Theatre
Vanya, Sonya, Masha, and Spike, City Theatre
Twelfth Night, Quantum Theatre Company
A Midsummer Night's Dream, Quantum Theatre Company
Dog Face, Quantum Theatre Company/Festival D'Otono, Madrid
Footfalls, Pittsburgh Irish and Classical Theatre, BeckettFest
King Lear, The REP
Kimberly Akimbo, The REP
The Third Lie, The REP
Selected Artistic Works
The Gun Show, Director, Quantum Theatre
The History Boys, Director, Conservatory of Performing Arts
Lost Boy Found at Whole Foods, Director, The REP
Dry Bones by James McManus, Director, City Theatre Momentum Festival
South Side Stories, Dialect Coach, City Theatre
Pig, Director, The REP
Anton in Show Business, Director, The REP
The Room, Director, Pittsburgh Irish and Classical Theatre, Pinter Celebration
Riders to the Sea, The Shadow of the Glen, Director, Pittsburgh Irish and Classical Theatre's Synge Festival; Wilde Tales (world premiere), Director; Come and Go, What Where, and the staged reading of Happy Days, Director, BeckettFest 
Top Girls, Director, Conservatory Theatre Company
The Two Gentlemen of Verona, Director, Conservatory Theatre Company
Cloud Nine, Director, Conservatory Theatre Company
The Lonesome West, Dialect coach, The REP
Research Interests
Shakespeare: performance and directing, history, language/poetry, verse, physical acting approaches.
Dialects, accents and speech, including a specialty in the dialect 'Pittsburghese.'
Stage directing, including experimental and devised work.
Selected Awards
Outstanding Alumni Award, Point Park University, 2007
Performer of the Year, Pittsburgh Post-Gazette, 2005