Courses & Topics
Our courses are designed to prepare students for continued study at the graduate level as clinicians and scholars.
You will receive a well-rounded education through our core curriculum and classes in the psychology major. Courses include:
Modern and Postmodern Approaches to Psychology
Psychopathology: Critical Perspectives
Foundations to Community Psychology
LGBTQ Mental Health
Zombies & Psychological Life
Psychology of Evil and Human Destruction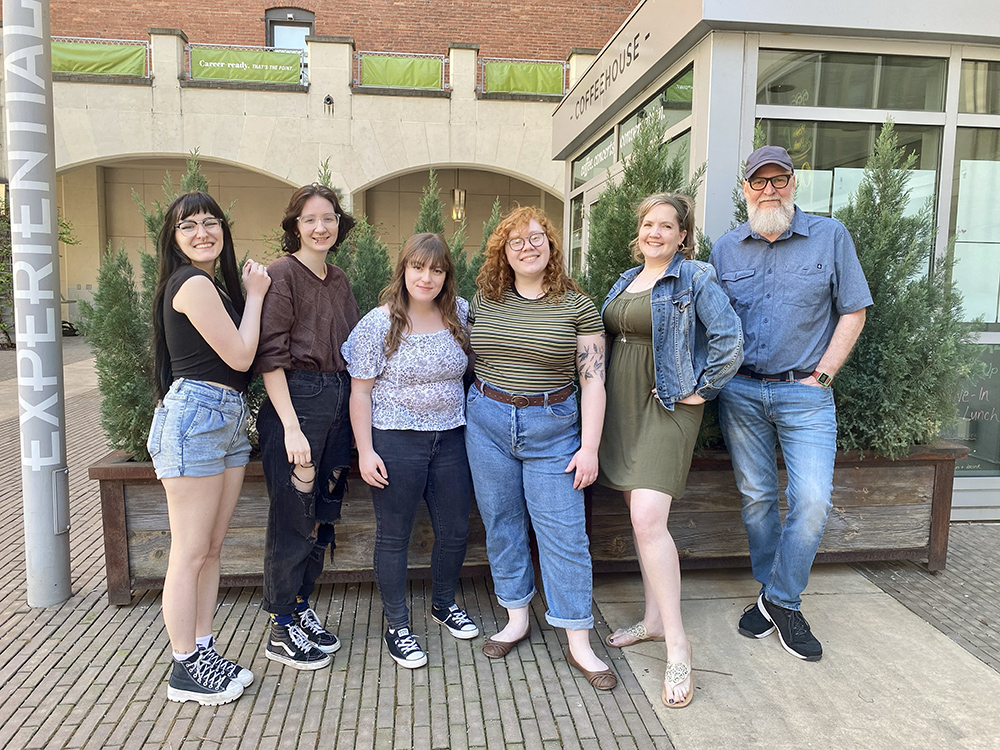 Department of Psychology faculty frequently provide students with real-world learning opportunities and include them in research efforts. Pictured from left are students Nicolette "Nik" Tymczyszyn, Dillion Peterson, Darian Lees, Vivian Kinter, Cynthia Gelien and Professor Robert McInerney, Ph.D. The group collaborated with Professor Autumn Redcross, Ph.D., and the ALC Court Watch program to conduct ethnographic observations on mental health court. Read about their experience.
Confluence Psychology Alliance Group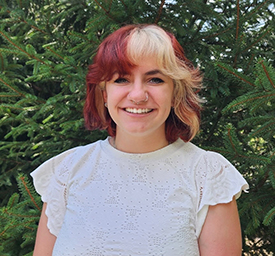 Point Park students have the opportunity to engage with faculty and peers through Confluence, an undergraduate humanistic psychology alliance that offers a place for multiplicity and diversity of thought, community, friendship and pro-action/activist outreach. It is open to all majors – all those interested in the psychological life of fiction, film, dance, politics, music, philosophy and everything else under the sun. Confluence members are unapologetic about their intellectual pursuits and unabashedly passionate! Learn more here. 
"My experience in my small town inspired me to go into the field of psychology, but it wasn't until I reached Point Park that I decided to pursue the community focus. Confluence is an opportunity to get involved with the University and Pittsburgh communities, which I am thrilled to do."  – Marley Smartnick, Confluence chairperson
Psychology Internships
Students in our psychology major participate in internships and practicums at local agencies (many of which are within walking distance of campus) including:
The Mobile Thriving Respite  
Pittsburgh Action Against Rape 
Imagine Further Collective 
Operation Safet Net  
Bridge Outreach  
Inside our Minds  
Persad  
The Counseling Initiative  
ALS/Courtwatch  
Visible Hands/Integrative Community Therapy  
Gay and Lesbian Community Center of Pittsburgh 
Strong Women, Strong Girls  
The Bradley Center
Psychology Alumni in Graduate School
Alumni of our B.A. psychology program have gone on to complete graduate school at a variety of schools such as:
Chicago School of Professional Psychology
Duquesne University
The University of West Georgia
Chatham University
Seattle University
Carlow University
Career Options
With a bachelor's degree in psychology, our students are well-prepared for continued study at the graduate level or to pursue various career opportunities, such as:
Advocate
Administrator
Case Manager
Clinician
Licensed Counselor
Social, Market, or Data Researcher
Therapist
Therapeutic Support Specialist