Social Justice Psychology Research Team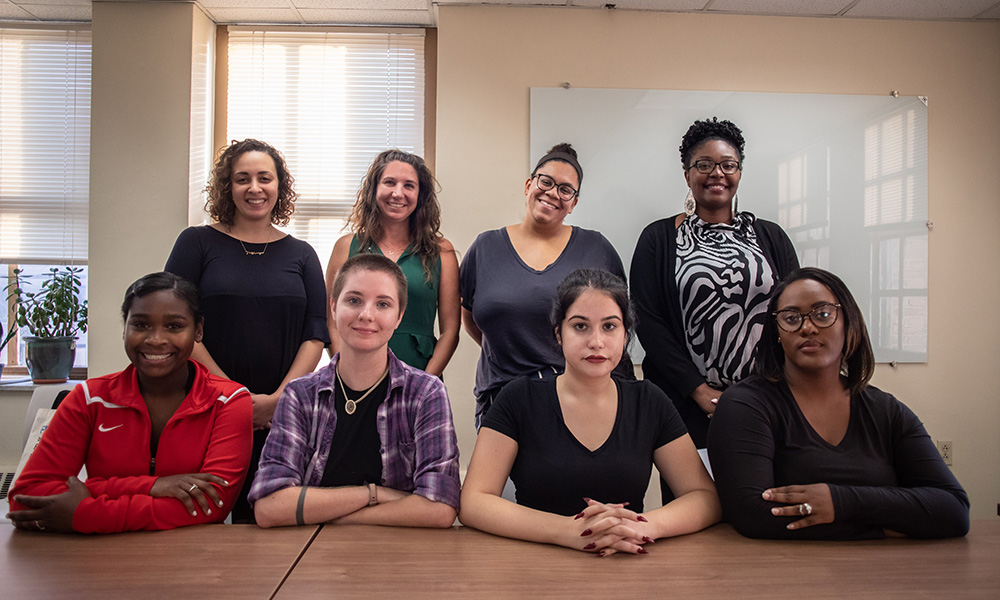 Front row left to right: Jeannea Cobb, Cris Wildman, Ani Hernandez and Orlandria Smith
Back row left to right: Rachel Stough, Britney Brinkman, Alexa Johnson and Shacoya Bates

Photo by Hannah Johnston, senior English major
Point Park University Research Team Members
Britney Brinkman, Ph.D., director, 

Social Justice Psychology Research Team

Anne Rinehart, M.A.
Shacoya Bates
Orlandria Smith, M.A. 
Ani Hernandez
Rachel Stough
Sarah Edmiston
Anima Sheestha
Jeannea Cobb
Alexa Johnson
Research Collaborators
Kathi Elliott, DNP, MSW, CRNP, Executive Director, Gwen's Girls
Sara Goodkind, Ph.D. School of Social Work, University of Pittsburgh
Deanna Hamilton, Ph.D., Counseling Psychology, Chatham University
Kandie Brinkman, Ph.D., Juan Diego Catholic High School
Susan Corbesero, Ph.D., The Ellis School
Allison Jedinak, Psy.D., Carnegie Mellon University Counseling Center
Andrea Joseph, Ph.D., University of Tennessee Knoxville
Amanda Cross, Ph.D., University of Pittsburgh, Office of Child Development
José Garth, Planned Parenthood of Western Pennsylvania
Katie Rose Horowitz, MPH, Planned Parenthood of Western Pennsylvania
Samantha Marino, M.A., Chatham University
Kelly Nestman Lockwood, Chatham University
Ashley Dandridge, M.A., Chatham University
Kate Meade, M.A., Chatham University
Patricia Donohue, Ph.D., M.S.
Meredith Deal, M.S.
Alannah Caisey, University of Pittsburgh
Rachel Coury, Chatham University
Current Research Projects

Redefining Resilience and Reframing Resistance: Evaluation of a Violence Prevention and Health Promotion Empowerment Program for Black Girls
Co-Investigators: Dr. Sara Goodkind, University of Pittsburgh and Dr. Kathi Elliott, Gwen's Girls
This project is funded by the Robert Wood Johnson Foundation through the Interdisciplinary Research Leaders Program.
In Allegheny County, Pennsylvania, Black girls are 11 times more likely than White girls to be referred to the juvenile court, while nationally, Black girls are referred three times as often. The proposed research will evaluate an empowerment-based program for Black girls designed to challenge negative perceptions, prevent violence, and improve their health via advocacy, restorative practices and participatory research.
This research aims to address the following questions via a mixed-methods, longitudinal and participatory approach:
Can an empowerment-focused intervention prevent violence and improve Black girls' health?
Can this empowerment-focused intervention shift adults' and girls' narratives about Black girls? There is growing national awareness of the challenges faced by Black girls and now is an opportune time to document and disseminate evidence-based models that address these inequities. 
---
Redefining Resistance: Adolescent Girls' Experiences of and Responses to Oppression
Co-Investigators: Dr. Deanna Hamilton and Dr. Kandie Brinkman
This project was funded by the Society for the Psychological Study of Social Issues.
The purpose of this study is to examine girls' experiences of oppression, exploring ways that they experience, engage in meaning making and actively resist sexism. Further, the project examines the ways in which adult educators perceive girls' resistance.
This study has a unique opportunity to examine possible changes over time by comparing data collected in this project to an initial six-year study in the same school system. In particular, this project will seek to explore whether and how girls' resistance has shifted (or not) over time, with particular emphasis placed on exploring the role of social media in girls' resistance.
---
Using an Intersectionality Framework to Examine Sexual Harassment Experienced by Black Girls
This project is funded by the FISA Foundation.
The goal of this project is to examine Black girls' experiences of sexual harassment utilizing an intersectionality framework to better understand:
The frequency and types of events;
How Black girls respond to sexual harassment and how their responses are treated by adults
The impact sexual harassment has on Black girls; and
The ways gender, ethnicity and social class intersect to influence Black girls' experiences of sexual harassment.
---
Comprehensive Sex Education in Western PA
Co-Investigators: José Garth and Katie Horowitz
This project is examining Black girls' reproductive health as shaped by both the gendered and racial historical context and current social structures which shape their experiences. We bring together data related to access to comprehensive sex education, teen births, teen STI rates and neighborhood demographics (including ethnicity and economic resources) to map a picture of reproductive health access for Black girls. Our work is rooted in a theoretical model of reproductive justice, which extends mainstream reproductive rights arguments to examine the sociocultural contexts in which women engage in reproductive decision-making (Silliman, Fried, Ross, & Gutierrez, 2016).
Overall, we describe the need to examine Black girls' reproductive health with a focus on systemic and structural factors influencing their access to resources and their sexual and reproductive health decision making.  
---
Girls, Activism, and Media Literacy
Co-Investigator: Susan Corbesero, Ph.D.
This project includes a series of collaborations with The Ellis School for Girls, exploring how girls and young women think about and become engaged in activism and examining the impact of media literacy training.
---
Pedagogical tools for Teaching Social Justice
The purpose of this project is to examine how graduate psychology students learn about key social justice constructs including multicultural competence, advocacy and intersectionality theory. One study examined students' development of multicultural competence and commitment to activism and advocacy work following participation in an advocacy project. Another explores how students learn to apply intersectionality theory to clinical work.
---
For more information about the Social Justice Psychology Research Team at Point Park University, contact Britney Brinkman, Ph.D., at 412-392-8079 or bbrinkman@pointpark.edu.