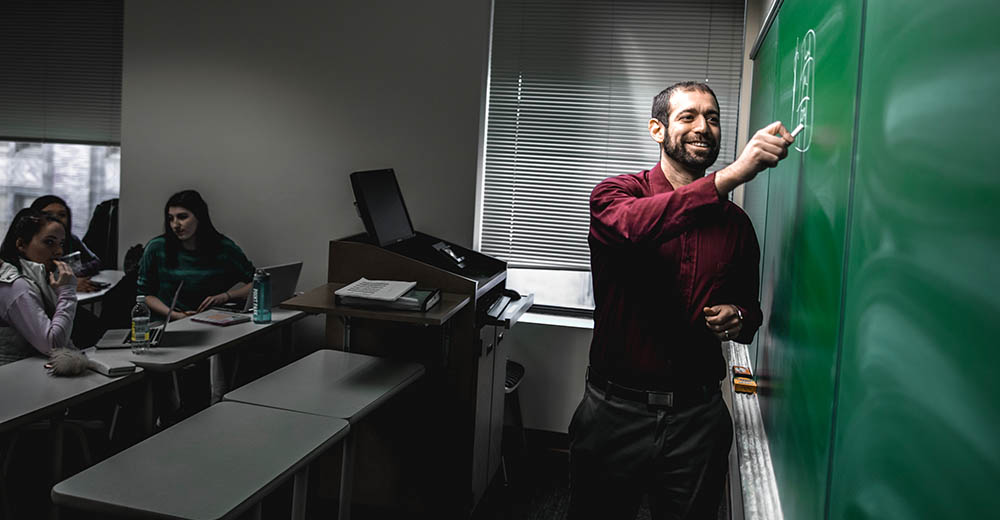 The philosophical foundation that supports the implementation of the core curriculum stems directly from Point Park University's mission statement:
Point Park University educates students in a diverse urban environment and prepares them to apply knowledge to achieve their goals, advance their professions and serve their communities.
The core curriculum is designed to provide each student with the opportunity to function as a problem solver, an effective researcher and an excellent communicator. The core curriculum builds the foundation of a Point Park education through courses that:
Allow students to integrate knowledge and insights from diverse fields.
Emphasize the development of critical thinking and written and oral communication skills.
Emphasize interactive learning: students are encouraged to think independently and to seek creative solutions to intellectual, ethical, and practical challenges.
The core curriculum serves not only to promote understanding among an increasingly diverse student body but also prepares students to participate responsibly in a democratic society.
COMMUNICATION
Employ written and oral communication skills in order to convey clear and organized information to target audiences for specific purposes.
INFORMATION LITERACY
Locate, evaluate and use information effectively, ethically, and legally from a variety of formats both traditional and digital.
PROBLEM SOLVING
Analyze problems and develop independent solutions.
GLOBAL/CULTURAL LITERACY
Analyze issues within their political, economic, socio-cultural, historical, and environmental contexts.
CREATIVITY/AESTHETICS
Recognize, define, analyze and interpret a variety of aesthetic expressions and/or demonstrate originality and inventiveness.
Core Curriculum Requirements
In accordance with Pennsylvania Department of Education regulations and Middle States Commission on Higher Education standards, Point Park's Core Curriculum consists of 42 credits of general education courses designed so that students gain college-level proficiency in communication, critical thinking and technological competency. Freshmen will complete the following three fundamentals courses in their first year.
Fundamentals (9 credits)
Foundations: Thematic Courses (30 credits)
Explore the World 1
Explore the World 2
Investigate Science
Investigate Math
Interpret Creative Works
Understand People 1
Understand People 2
Succeed in Business
Appreciate and Apply the Arts
Discover Technology
Capstone Course: (3 credits)
Core Courses News & Features