Education Paraprofessionals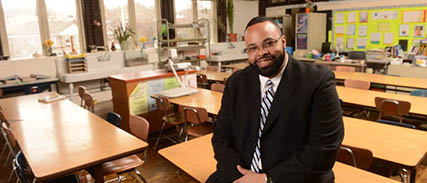 Clifford Perkins worked as a classroom paraprofessional. He earned a degree in elementary education from Point Park and today he's a science teacher.
Tuition Discount for Education Paraprofessionals
Point Park University is pleased to provide a tuition discount of approximately 30 percent to paraprofessionals earning their undergraduate education degree on a part-time basis.
With the discount, education tuition and fees will be approximately $535 per credit along with a $6 per credit technology fee.
Additional assistance may be available through the PA Keys Rising Star Tuition Assistance Program. Paraprofessionals who qualify for this state program may receive up to $4,500 per year toward part-time education tuition.
Don't wait! The Point Park discount combined with the PA Keys grants offer an unprecedented opportunity. Take advantage of this funding while it lasts.
A paraprofessional is anyone working in a classroom or daycare setting who is not the head teacher. Paraprofessional titles include:
Teacher's aide
Daycare provider
Noncertified daycare provider
Assistant teacher
Educational assistant
Advantages of earning your education degree at Point Park:
Courses and entire degree programs offered evenings and Saturdays
Convenience and flexibility for working adults
Programs are held at our Downtown Pittsburgh campus
To qualify for the Point Park education tuition discount:
Provide a verification letter from your employer that you are currently employed as a paraprofessional -- but not as a certified teacher -- in a school, early childhood education center or daycare. The letter should briefly explain your job duties. You must provide this documentation each semester.
You must meet all admissions requirements.
You must pursue an education undergraduate degree on a part-time basis (fewer than 12 credits per semester).
You may not combine the discount with any other discount or scholarship offered by Point Park University. (You may, however, combine it with PA Keys Rising Star funding).
Learn More
Take the first step and request information today!