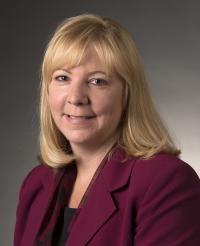 Your admissions counselor is …
Lynn Ribar
Director, Office of Graduate Admission

Contact Information:
412-392-3908
1-800-321-0129
lribar@pointpark.edu
Point Park University
Office of Graduate Admission
201 Wood Street
Pittsburgh, PA 15222
About Lynn ...
Education: B.A. in international affairs, The George Washington University; J.D., University of Pittsburgh School of Law
Lynn's office is located at: 103 Thayer Hall
Lynn joined Point Park's Office of Graduate Admission in 2003.
Lynn assists students seeking graduate programs offered by the School of Education.
Lynn's thoughts on Point Park: I began working in education following my graduation from law school. Initially, I taught adults, then moved into student service when I came to Point Park. I appreciate the chance to work with adult students who are committed to making real changes in their lives and enjoy helping them achieve their goals at a University dedicated to their success.