Your admissions counselor is …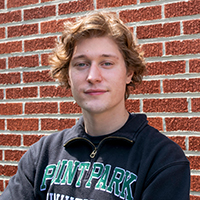 Nicholas Poprocky
Admissions Counselor

Contact Information:
412-392-3807
1-800-321-0129
npoprocky@pointpark.edu
Point Park University
Office of Graduate Admission
201 Wood Street
Pittsburgh, PA 15222
About Nick..
Education: Bachelor of Arts, Public Relations and Advertising, Point Park University
Nicholas' office is located at: 108 Thayer Hall
Nicholas joined Point Park's Graduate Admission office in 2021.
Nicholas assists students seeking graduate programs in the School of Communication, Natural Sciences and Engineering Technology, and Criminal Justice and Intelligence Studies (Criminal Justice Administration).
Nicholas 's thoughts on Point Park: The inclusive values of Point Park University make me proud to be a part of this community. Our students, faculty, leadership, and staff work hard to support each other. This is a great place to be yourself while developing professional skills. There are so many ways to get involved on campus and so much to be proud of!