more news
People of Point Park: Kyle and Alyssa Southerlin '11, First Impressions and Finding Love
Thursday, February 9, 2017
Alumni Spotlight
Alyssa (Zagorac) Southerlin '11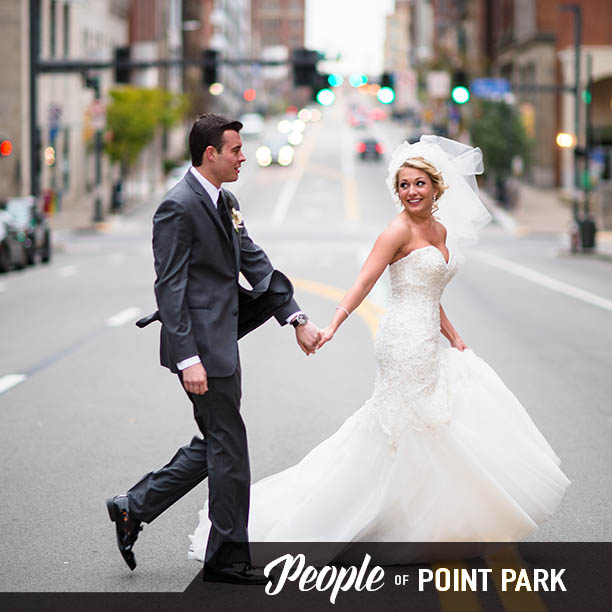 Degree earned: B.F.A. in Theatre Arts
Occupation: Kindergarten Teacher
Employer: Propel Montour Charter School
Now living in: Robinson Township, Pa.
Kyle Southerlin '11
Degree earned: B.A. in Theatre Arts
Occupation: General Manager
Employer: Ace Hotel
Now living in: Robinson Township, Pa.
Alyssa and Kyle Southerlin met as freshmen in 2008, and dated throughout the rest of their time at Point Park. Following their graduation in 2011, they moved to New York City for a year to pursue their performing arts dreams. Married in 2013, Alyssa and Kyle welcomed their first child, Grace Everly (Point Park class of 2038!) in June 2016.
First Impressions
Alyssa and Kyle both grew up in western Pennsylvania, and were excited to come to Pittsburgh to pursue their theatre dreams when they arrived on campus in the fall of 2007. Cast in Playhouse Jr.'s production of "A Year with Frog and Toad," a play based on the popular "Frog and Toad" series by author Arnold Lobel, Alyssa and Kyle met during rehearsals.
Alyssa's first impression of Kyle, however, was not as positive as the reviews of their production! "Kyle was confident, and sort of a mystery - he was very different from most of the guys in our program," Alyssa said. "He had a new red car, and was jetting off after rehearsals to work and definitely did his own thing. I thought he was a bit of a jerk!"
Alyssa soon got over that initial impression when she and Kyle had their first date at the ice rink at PPG Place. Kyle, a former ice hockey player, picked a skating date so he could show off his prowess on the ice. As they grew closer, they'd meet for lunch dates at Mandarin Gourmet, knowing it was a treat to see each other during the day between classes, workouts and rehearsals.
Happy Ever After
After graduating in 2011, Alyssa and Kyle made the decision to move to New York; but after getting engaged at Christmas, they realized how important it was to start their married lives close to family. Wanting to share her passion for theatre with others, Alyssa secured a job teaching theatre arts at Propel Charter Schools and quickly found that she loved teaching. She earned a graduate degree in education with a specialization in early childhood education and switched from teaching theatre to kindergarten in the fall of 2016. Of her career transition, Alyssa said "If there is anything my B.F.A. prepared me for, it's thinking on my feet and being able to put myself in somebody else's shoes, which is a huge asset as a teacher - empathy."
Kyle was also able to use his acting skills to transition to a career in the hotel industry - after working at the Waldorf-Astoria while they lived in New York, he was well-qualified for management positions at hotels in the Pittsburgh area and currently works as the general manager at Ace Hotel in East Liberty. "I want to ensure each guest feels welcomed and has a comfortable, enjoyable stay," he said.
Best Collegiate Date
Alyssa: "The day before classes started for our senior year, we went out on a date, and Kyle surprised me with a charm bracelet. It was a sweet gift, and a wonderful way to mark the beginning of the end of our time at Point Park."
Kyle: "Alyssa's birthday is in November, and I was able to surprise her with dinner at Monterrey Bay Fish Grotto during our senior year. She was so surprised!"

Photo by Michael Williams
More About: alumni, Downtown Pittsburgh, education, Conservatory of Performing Arts, acting, Pittsburgh Playhouse, theatre, Playhouse Jr.